Council's £11,000 on-street electric car charge points used just 26 times in eight months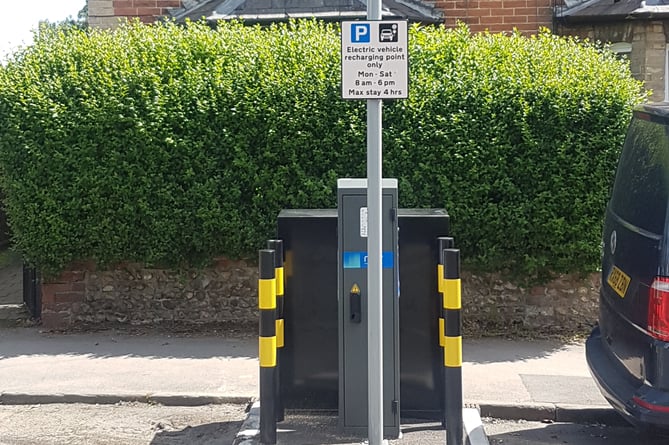 Electric vehicle owners can use the Hale Road charging points for a maximum of four hours at a time, between hours of 8am and 6pm Monday to Saturday, as well as freely outside these times – the cost is 30p per kWh
(David Howell )
Subscribe newsletter
Subscribe to our email and get updates right in your inbox.
TWO on-street electric vehicle (EV) fast-charging points installed in Hale Road, Farnham, have been used just 26 times since their installation by Surrey County Council last autumn, a Freedom of Information (FOI) request has revealed.
Surrey became one of the first county councils in England to install on-street charging points when it launched a trial of ten 22 kilowatt three-phase charging points across Waverley in September – with a total of 80 taxpayer-funded on-street charge points now planned across the county.
Information obtained under the FOI Act by the Herald's Bricks and Mortar Reporter David Howell has revealed the total installation costs for this is £448,225.20 – with an approximate cost of £11,205.63 for the two charge points in Hale Road.
This means each of the 26 charges at the Hale Road sockets have cost taxpayers the equivalent of £430.99 per charge to date.
The county council has stressed the Hale Road charge points are part of a trial "to assess the usage and ideal locations prior to a wider roll-out across the county", as well as giving residents without access to off-street parking "the confidence to switch to electric vehicles".
And with sales of electric vehicles (EV) currently at an all-time high in the UK, the county expects their use to "increase over time as the charge points have a lifespan of many years".
Sales of new petrol and diesel cars are due to end in 2030, and Surrey County Council intends to roll out thousands of on-street charge points over the coming years to meet increasing demand.
More than a quarter of a million EVs now travel on UK roads and sales of plug-in vehicles have reached all-time highs, with 327,000 registered last year alone – a 77 per cent rise compared to 2020.
It is in light of this that Surrey County Council says it is not fazed by the slow take-up of its EV fast-charging points in Hale Road, Farnham – as revealed on Page 1.
A spokesman for the county council said: "Charge points such as those in Hale Road are giving us valuable insights into usage, as well as giving people without access to off-street parking the confidence they can switch to an EV.
"We would expect usage of our trial charge points to improve over time as EV ownership increases, and we'll keep this under regular review to ensure charge points are in the right places.
"We would expect the trial to last a minimum of two years and we wouldn't want to remove a trial point now as it may need to be reinstalled in the future to meet demand."
The Hale Road on-street charge points are part of trial which is a partnership between Surrey County Council, Waverley Borough Council and Enterprise M3 local enterprise partnership.
Rieks Drijver, a member of Extinction Rebellion Waverley, added: "We welcome investment in projects that bring us closer to our shared goals of net zero carbon emissions to avert climate chaos.
"Electrifying private transport is consistent with those aims.
"We need the government and local authorities to put in place the infrastructure for people to use, and it is inevitable that where that is done ahead of the mass adoption by the public of EVs, then in the early stages the use of publicly available charge points may be low.
"What we would also want to get across is that changing every fossil fuel driven car for an electric car is not the answer to averting climate chaos.
"The change we need is away from private transport and towards increased use of public transport, cycling and walking."
Comments
To leave a comment you need to create an account. |
All comments 0