Neighbourhood plan about to enter critical phase
Saturday 19th May 2018 6:00 am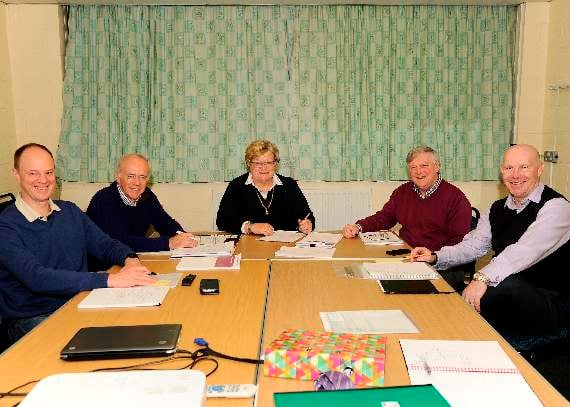 The original NDP steering committee back in 2016 – left to right: David Brocklebank, Michael Cromher, Susan Garnett (chairman), Alasdair Cameron and Ian Hobbs
()
Subscribe newsletter
Subscribe to our email and get updates right in your inbox.
BRAMSHOTT and Liphook's Neighbourhood Development Plan (NDP) is at a critical stage, as it moves into its second phase.
With consultants Feria Urbanism's interim report approved by the parish council and published on the NDP website, the steering group members are driving the plan forward to reach its anticipated completion early next year.
At last month's parish council meeting, Emma Winfield, who chaired the committee during the plan's first phase, has put forward a new proposal which she also took to the NDP steering committee meeting.
After recent complaints about the 'attitude' of cetain parish councillors, she feels a six-month rota could be introduced whereby one of the two appointed councillors could be replaced by another.
"I would be happy to step back and let someone else from the parish council take my place for six months and then have another change six months later," she said.
"This could help improve the relationship between parish councillors and the steering group, let everyone see how much hard work is done by the group and hopefully establish more trust in the plan."
She also felt parish councillors would have a better understanding if they were part of the plan process and more actively involved.
The proposal was met with concerns by the steering group over continuity and the loss of momentum as well as working together as an established team to drive the NDP process forward and meet its planned deadline. Members felt they did not want to lose Mrs Winfield, their former chairman, or get closer to the parish council, but concentrate on recruiting volunteers from the community and establish much-needed working parties.
Last month a key member of the steering group, Alasdair Cameron, resigned, stating he had become 'increasingly frustrated by the lack of support and interest' displayed by a number of parish councillors, as well as certain decisions made by the council on NDP issues.
He also felt the need for the steering group to be so closely aligned to the parish council was 'inefficient and hugely unhelpful.'
The current group has established a close relationship, working on a recruitment campaign for the seven key policy themes established by the interim report, produced by Feria Urbanism's independent consultant Richard Eastham, who will continue to advise on the NDP.
He claimed Liphook would be the most obvious candidate for future housing allocations by the district council, because it has a railway station with a London Waterloo link.
He said: "The first port of call for more housing will be Liphook, a prime candidate, because of the existing railway link.
"The NDP needs to address and prep this to be aware of the potential consequences."
He called for further input from East Hampshire District Council on future housing needs, which at present are uncertain, and advised against allocating unnecessary land in specific areas, but to wait and meet an identified demand instead.
EHDC'S current housing allocation has been met by developments at Lowsley Farm and no additional land was needed at present for future housing.
He also called for an update on the Atkins Study – Hampshire highways' traffic survey – which was commissioned by EHDC, to get a clear picture of issues in the parish and particularly the village centre.
Volunteers are now needed for groups dealing with access and movement, community policies, sports and recreation, housing, heritage and design, public services and employment.
Steering group members raised concerns the interview process for new members may be off-putting to potential volunteers who are encouraged to have a diverse range of skillsets.
They agreed to amend the forms to a shorter user-friendly document and allow interviews to be a discussion rather than formal.
At an extraordinary parish council meeting held on April 18, recommendations, which included increasing the steering group from 10 to 12 members, were approved.
Steering committee member Dominic Taplin, who resigned in early April, has been replaced by Raine Ryland but two more places now need to be filled.
A number of applicants, who are due to be appointed to working parties, include Paul Arnold, retired senior project manager for the Highways Agency, who built the Hindhead Tunnel and architect Adrian Bird, who is chairman of the parish Preservation Society.
Christine Hill, Tony Richards, Richard Curry, Andrew Pope and Andrew Salmon are also due to join already assigned volunteers Claire Payne, ex-steering group member David Brocklebank and Tony Rudgard, the parish's former sports representative and president of the Bramshott and District Preservation Society.
NDPs give communities direct power to develop a shared vision for their neighbourhood and shape the development and growth of their area addressing all major issues connected with planning.
Comments
To leave a comment you need to create an account. |
All comments 0