HOMES have been found across the Farnham area for more than 40 families fleeing the fighting in Ukraine.
The Herald is aware of two organised groups of Farnham residents offering homes to refugees forming this week – and both are being supported by Farnham Town Council.
The first was launched by Rowledge woman Kate Larmer on March 16 – and in just seven days Kate has found 35 families in Ukraine in need of temporary housing, and an incredible 79 sponsors in the Farnham community willing to open up their homes to refugees.
Kate teamed up with a Ukranian woman, Tatyana Moskalenko, living on the south coast to identify families desperate to escape the war zone – with the majority coming from the Kharkiv area.
Their 35 families total 78 people – 35 of whom are children – and Kate and Tatyana have now enlisted the help of Farnham Town Council and the Rowledge Residents Association to help match the Ukranian families to sponsor families, and facilitate their arrival in the UK.
Homes have been found in Farnham, Lower Bourne, Wrecclesham, Bentley, Binsted, Upper Hale and Rowledge.
A second group, spearheaded by Carole Appleby, a former employee of the Refugee Council living in Farnham, and Otto Otenko, a student of Ukrainian heritage at University for the Creative Arts in Farnham, has also found homes locally for five Ukrainian families fleeing the fighting.
The Farnham Maltings convened a special meeting of its Farnham Connects group on Tuesday to co-ordinate Farnham's response to the Ukraine crisis, and a warm welcome awaits those fleeing the war in the town.
The mayor of Farnham, Councillor Alan Earwaker, hosted a Zoom session for a number of the families set to embark for Farnham on Sunday, to reassure them, answer questions and offer a hearty welcome prior to their arrival in the town.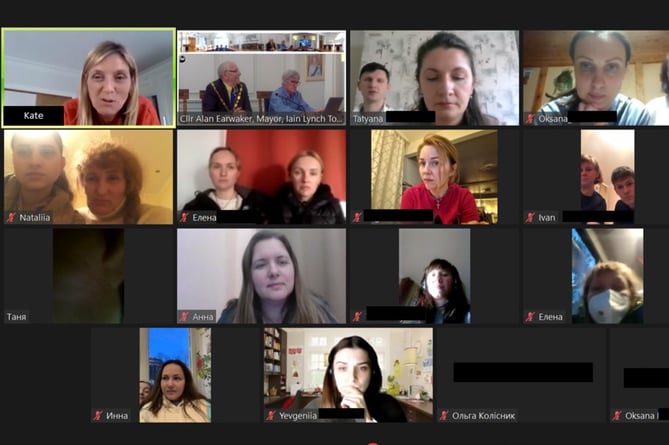 The mayor of Farnham, Councillor Alan Earwaker, hosted a Zoom session for almost 40 Ukrainian families set to flee the fighting in their home country for refuge of Farnham on Sunday
(Farnham Town Council)
Kate and Tatyana were also featured by BBC South Today this week.
Refugees set to arrive in Farnham in coming weeks include  a six-month-old baby and a pregnant mum, with the families mostly coming from Kharkiv.
Kate and Tatyana have been supported by Farnham Town Council and the Rowledge Residents Association, but are now appealing for people willing to support the refugees once they arrive in the UK.
Specifically, 'English as a second language' teachers are needed, as are people able to offer employment – with Kate adding that many of the refugees are highly-skilled professionals, many already speak English and most are highly IT literate.
"This is going to be a marathon, not a sprint, and many of our families are still too afraid to leave their homes, with bombs dropping around them constantly," said Kate.
"Getting out of the country is hard too. Because Ukraine is so vast, you cannot cross from east to west on one tank of fuel, and the queues for petrol are huge. The children are also very afraid about getting on planes, for obvious reasons.
"We do have some families who have already made it through to the border, and are going through the visa and passport application process. But it can take up to two weeks to be approved, and so finding accommodation while they wait is becoming a big problem."
To help support families as they wait, Kate and Tatyana have specifically appealed for any people in the Farnham area with Polish relatives living near Warsaw or Kharkiv, and able to offer temporary accommodation, to get in touch.
These offers of supplementary assistance are being co-ordinated by the Rowledge Residents Association, which can be contacted via email at [email protected]
Jeff Ward, of the association, said: "We're delighted to have received generous offers from more than 50 people so far.
"If you would like to put your name down on a register of potential helpers, please email [email protected] with an indication of what you may be able to offer – for example, just some ideas: clothing, bicycles, services like transport to the shops/etc., specialist skills such as teaching, translation, qualified counselling, keep fit/yoga/pilates, 'join us for a sunny walk/run/bike ride', that sort of thing).
"The more, and the more variety we can get, the better this is going to be. I regret to say I think counselling will be in demand."