Waverley house prices drop by 2.7%
Property prices fall in latest monthly survey - but long-term trend is still up.
Thursday 20th January 2022 9:56 am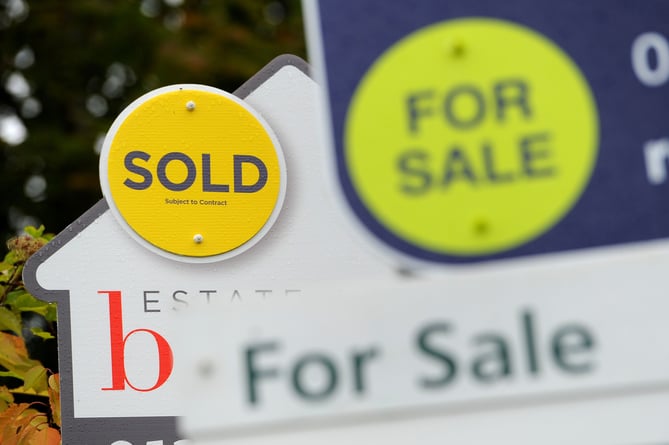 Estate agents boards
(PA )
Subscribe newsletter
Subscribe to our email and get updates right in your inbox.
House prices dropped by 2.7% in Waverley in November, new figures show.
But the drop does not reverse the longer-term trend, which has seen property prices in the area achieve 11.8% annual growth.
The average Waverley house price in November was £521,882, Land Registry figures show – a 2.7% decrease on October.
Over the month, the picture was worse than that across the South East, where prices increased 0.5%, and Waverley underperformed compared to the 1.2% rise for the UK as a whole.
Over the last year, the average sale price of property in Waverley rose by £55,000 – putting the area 25th among the South East's 64 local authorities with price data for annual growth.
The best annual growth in the region was in Hastings, where property prices increased on average by 22.4%, to £276,000. At the other end of the scale, properties in Woking gained just 3.7% in value, giving an average price of £442,000.
Factfile
Waverley in numbers
Average property price in November
Waverley: £521,882
The South East: £369,093
UK: £270,708
Annual growth to November
Waverley: +11.8%
The South East: +9.6%
UK: +10%
Owners of flats fared worst in Waverley in November – they dropped 2.9% in price, to £263,654 on average. But over the last year, prices rose by 5.6%.
Among other types of property:
Detached: down 2.7% monthly; up 14.3% annually; £885,952 averageSemi-detached: down 2.6% monthly; up 13.2% annually; £525,778 averageTerraced: down 2.8% monthly; up 9.4% annually; £396,853 average
First-time buyers in Waverley spent an average of £379,000 on their property – £36,000 more than a year ago, and £51,000 more than in November 2016.
By comparison, former owner-occupiers paid £615,000 on average in November – 62.3% more than first-time buyers.
How do property prices in Waverley compare?
Buyers paid 41.4% more than the average price in the South East (£369,000) in November for a property in Waverley. Across the South East, property prices are high compared to those across the UK, where the average cost £271,000.
The most expensive properties in the South East were in Elmbridge – £692,000 on average, and 1.3 times as much as more than in Waverley. Elmbridge properties cost three times as much as homes in Southampton (£233,000 average), at the other end of the scale.
The highest property prices across the UK were in Kensington and Chelsea.
Comments
To leave a comment you need to create an account. |
All comments 0