With three bank holidays coming up in May, many Brits may be looking to turn their hands to some home DIY.
It can be hard to know where to begin, especially if you are trying to stay within a budget. 
To help you get started, DIY and upcycling experts Plank Hardware have shared their top ten budget-friendly hacks to spruce up your home. 
1. Kitchen cabinet upcycle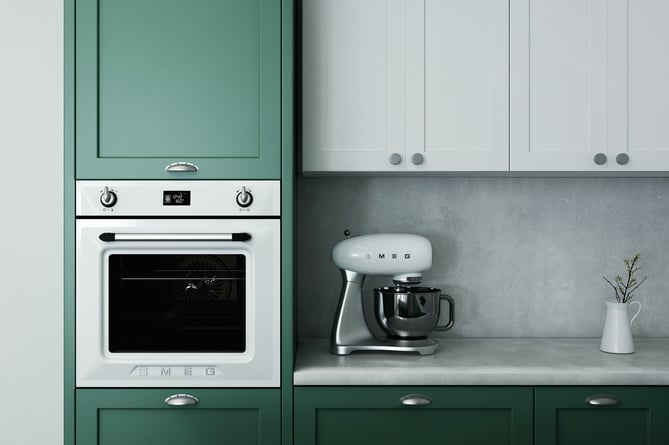 Refresh your kitchen with newly painted cabinets.
(Kam Idris on Unsplash)
Painting your kitchen cabinets and changing the cupboard handles gives an instant face lift to any kitchen.
Budget-friendly hack: Give a dated, gloss-finished kitchen a timeless treatment by using MDF panelling to create Shaker style doors. Prime, paint and complete with brass hardware, for a high-end look that will endure changing trends.
Maximalism is back; try painting a feature wall to give your room the ultimate, instant refresh
Budget-friendly hack: If you've collected a drawer full of paint sample pots, or have left over scraps of decorative wallpaper, get creative with your feature wall. Colour blocking has been trending in recent years, meaning you don't need huge quantities of any specific colour.
3. Revamp tired garden furniture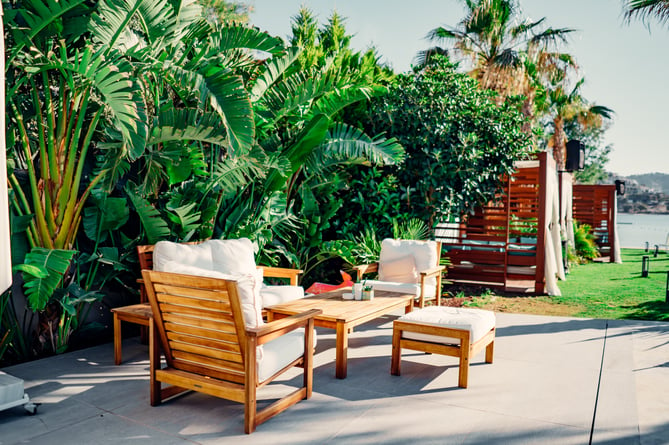 Revamp your garden furniture.
(Cagin Kargi)
A simple lick of paint can lift tired garden furniture for a summer of outdoor living.
Budget-friendly hack: Before you hit the local hardware store, be sure to double check those tins you have stored in your garage or garden shed — you might just have enough. Otherwise, ask a neighbour if they have any half tins of paint left unused.
It's a simple one, but adding a shelf to your room adds depth and interest. Add photographs, prints and seasonal decorations to cost effectively switch it up as the seasons change.
Budget-friendly hack: Those left over pieces of floor board from your renovation might fit the bill for this project — as well as creating a cohesive look in your home. If you're into the industrial look, reclaimed scaffolding boards always look striking in a kitchen space and can be picked up relatively inexpensively.
5. Hang pictures or prints 
Give your living room or bedroom an instant lift and add character and personality by adding pictures or prints to the walls. 
Budget-friendly hack: Framing prints can be expensive, especially for custom sizes. We suggest sourcing cheap frames from IKEA, then mounting each print or picture on to backing paper that fits the frame perfectly. Get playful by working with coloured papers or cards, then spruce up your frame with trending wooden bobbin detailing.
6. Raised beds or planter boxes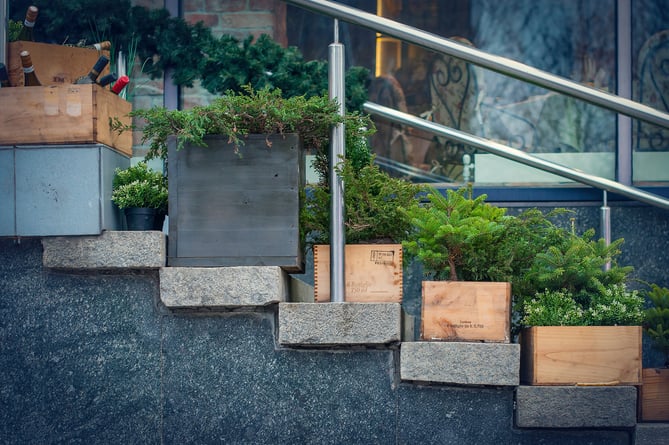 Using planter boxes or raised beds can spruce up your outdoor space.
(Aleksei Ieshkin on Unsplash)
Whether you're taking a step towards a more sustainable life and growing your own fruit and veg, or just want an aesthetically pleasing spot to grow flowers, DIY planter boxes and raised beds are all the rage for garden renovation right now.
Budget-friendly hack: Make your planters from wooden crates, palettes or even unused furniture. It's not uncommon to see these items left on neighbourhood streets these days. Could you remove the drawer from a cabinet and plant straight into that? Sure you can.
7. Invest in some new taps 
Haven't quite got the cash for a full kitchen or bathroom renovation? Don't underestimate the power of switching up your tap game. 
Budget-friendly hack: Updating your taps can make a huge difference to your interiors, but it's not always cheap. If you want to improve yours, but your existing tap is functioning fine, why not repurpose it in a DIY outdoor kitchen set-up? Extend its life a little more.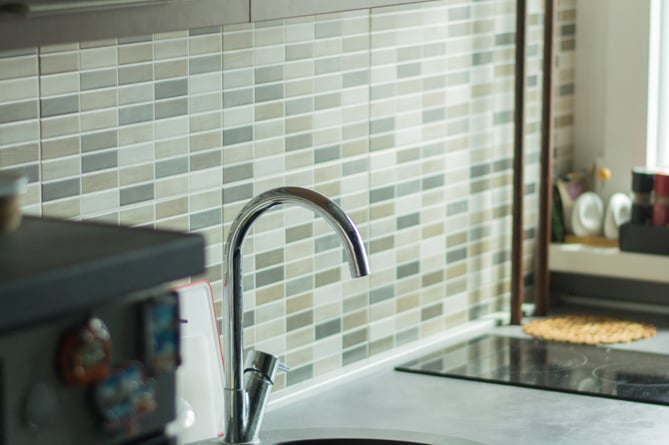 Adding backsplash tiles can protect your walls and make your kitchen look sleeker.
(Filip Baotic on Unsplash)
Not only do they protect your walls from cooking splatter and stains, but they're easy to clean and install. It's no wonder more and more people are fitting them themselves!
Budget-friendly hack: If your tiling budget is slim, consider whether or not you need to go the full height and width of your cabinetry. Perhaps just two or three rows of tiles will offer the practicality you need, allowing you to introduce some wipe-friendly paint? Or maybe you create a feature of your tiling area, sitting just behind your hob?
Oddly satisfying and gross in equal measure, regrouting is bathroom renovation on a budget. To save time and effort, you can apply new grout right over the top of old grout for instant results.
Budget-friendly hack: It's often the case that we leave a DIY project until something is broken. Maintenance is key when it comes to grouting. Check in on your bathroom grouting every six months and address the areas that look most vulnerable. You'll better mitigate the risk of broken tiles and leaks, which are far more pricey to rectify.
Curb appeal is real, so ensure those passing by your home know you mean business. No need for a new front door — simply replace your letter box to give your neighbours instant front door envy.
Budget-friendly hack: If your door hardware is made of solid brass, but is a little tarnished from exposure to the elements, why not give it a polish? You may not need new door furniture after all.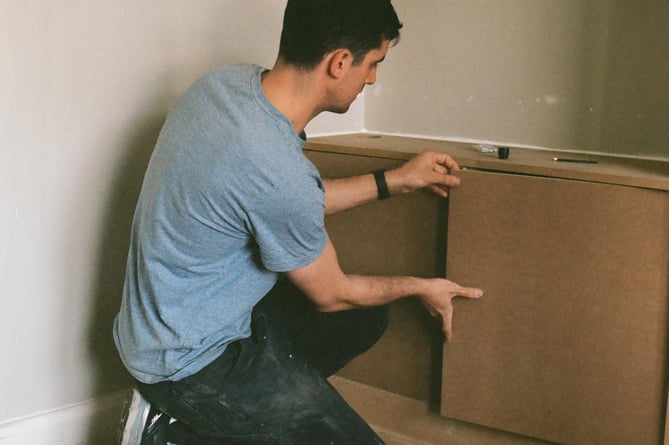 Plank Hardware's co-founder Tom Revill.
(Plank Hardware)
Tom Revill, Plank Hardware's co-founder and DIY expert, commented:"Achieving your interior goals doesn't have to be hampered by budget, but it's so important that you factor in your personal budget before you embark upon any home renovation or DIY project. And stick to it.
"For instance, the cost of a kitchen renovation will vary dramatically depending on a number of factors; whether you opt for tiles or paint, as one example. My advice would be to be realistic with your budget or you'll be disappointed. You'll be amazed at some of the ways you can save."
A spokesperson from Ryobi commented: "It has been great to support Plank Hardware in creating the ultimate DIY planner, with all the key tools you'll need to tackle any DIY project this Bank Holiday. This is a fantastic starting point for those looking to embark on their DIY journey, or even the well seasoned pros! We would recommend starting with the basic tools and building your kit from there. Bank Holiday weekends are the best time to start."
Head to Plank Hardware's site for expert information from Plank and Ryobi, including all of the DIY tools you'll typically need for these budget-friendly DIY projects and free, downloadable home renovation and DIY project planners to get you started this Bank Holiday!