The Duchess of Edinburgh visited Royal Surrey County Hospital in Guildford last week to officially re-open a new state-of-the art diagnostic wing.
This was a return visit for Her Royal Highness who had opened the same wing, which is used for diagnosing conditions from heart disease to cancer, 18 years ago.
The trust's HASTE Wing has undergone a significant refurbishment that has seen the organisation invest in two state-of-the-art MRI scanners and four cutting-edge echocardiography machines.
The Duchess was shown around by Royal Surrey chief executive Louise Stead and chair Joss Bigmore.
As well as meeting a number of staff, the Duchess also met patients, including eight-year-old Momen Mohammed who demonstrated how the youngest patients were prepared for an MRI scan using a Lego model.
The new MRI scanners can be used to examine almost any part of the body including the brain and spinal cord, bones and joints, breasts, heart and blood vessels, as well as internal organs, such as the liver, uterus or prostate gland. They feature artificial intelligence technology, which reduces scan times by 30 per cent and are also more spacious for patients inside the scanner.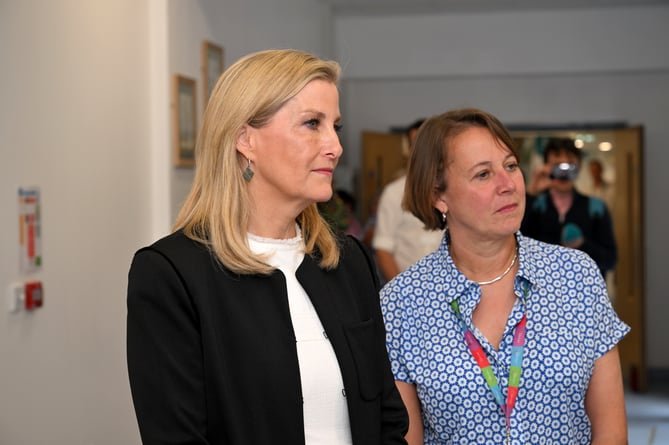 The Duchess of Edinburgh with the Royal Surrey's chief executive Louise Stead
(RSCH)
The refurbishment has also made significant improvements to the patient experience, with short relaxing films available to watch during scans as well as soothing light displays.
One of the key benefits is very young children are able to undergo scans in as little as 30 seconds while watching their favourite film and without the need for a general anaesthetic.
The Duchess also saw how the echocardiography machines are used to scan a patient's heart and nearby blood vessels.
The new equipment will be used to provide potentially life-saving screening for up to 10,000 patients a year. This is up from 5,000 previously.
Chief executive Louise Stead said: "We were delighted to welcome Her Royal Highness The Duchess of Edinburgh to re-open the HASTE Wing.
"It was a privilege to showcase the significant investment the trust has made to ensure these two essential services are fit for the future.
"The Duchess was able to see how each element of the refurbishment was centred around improving the experience of patients. 
"We know from research this can make a really big difference to how comfortable people feel coming into the unit and undergoing their procedures – particularly for our younger patients and those who may worry about feeling claustrophobic going into a scanner."