Visitors to the picturesque Meon Valley Trail at the old station at West Meon were confronted by a huge pile of illegally-dumped waste this week.
Dog walker Chris Hampson from Privett reported the fly-tipping incident last Friday, calling it the "worst example of illegal and mindless waste tipping I've ever personally encountered".
The waste was dumped right at the start of the popular 11-mile Meon Valley Trail between West Meon and Wickham, and it was still there when Mr Hampson returned on Tuesday.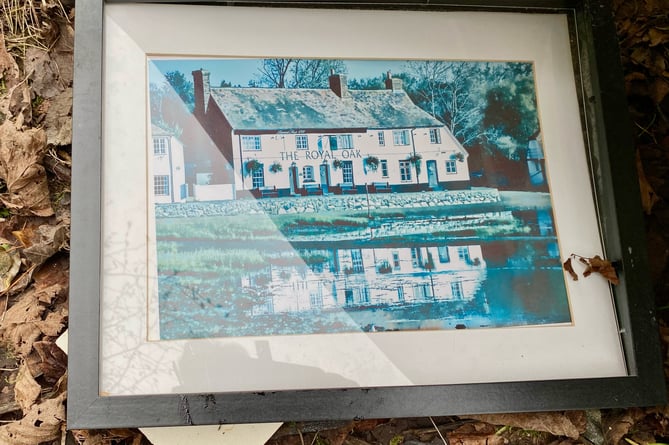 The fly-tipped waste included a number of personal items including this photo of The Royal Oak pub in Havant
(Chris Hampson)
Owing to the presence of several personal items littered among the rubbish, it is hoped the waste may be 'reacquainted' with its owner – along with a potential hefty fine.
The dumped waste consists of two divan beds, soiled mattresses and piles of broken melamine cupboards that are now blocking the old train tracks of the West Meon station. 
But among the debris were also personal items, including a photo of two Siamese cats, a picture of The Royal Oak pub in Havant and a poster of a train in the steam era.
The waste was dumped in a secluded spot out of sight of the road, which Mr Hampson believes indicates some level of local knowledge.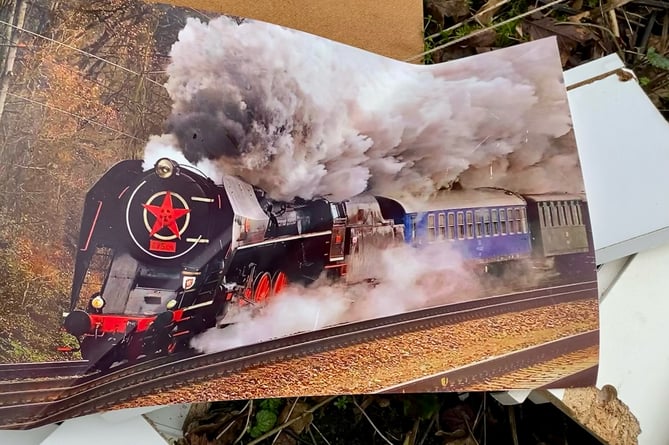 Do you recognise this photo of a steam train, dumped on the Meon Valley Trail last week?
(Chris Hampson)
It is though in full view of walkers at the start of the Meon Valley Trail, a popular walking route leading to Old Winchester Hill, and has left Mr Hampson despairing at the lack of care some individuals show towards the local countryside. 
He said: "It makes me despair that there are those among us who simply do not care about precious, shared, open-to-all amenities. Shame on them."
Mr Hampson has expressed concern that this kind of waste dumping is not only illegal but also harms the environment and the local community. 
He has urged the authorities to take action against such offenders and hold them accountable for their actions.
The Meon Valley Trail spans 11 miles from West Meon to Wickham on a former railway line
(Chris Hampson)
Once a railway line running from Fareham to Alton transporting local livestock and agricultural produce, the Meon Valley Trail now spans 11 miles through picturesque countryside, from West Meon in the north to Wickham in the south.
In West Meon, where the waste was dumped, Winchester City Council is responsible for clearing fly-tipped waste – and does so every year, at great taxpayer expense. According to government figures, waste was dumped 1,732 times in Winchester district last year. Of these, 1,414 were on highways and 180 on footpaths and bridleways.