Christians walked through Petersfield on Good Friday, starting at the Methodist church and pausing to pray in Lavant Street and in Rams Walk. 
More than 300 worshippers filled the town's Square and sang and prayed, accompanied by the Salvation Army band.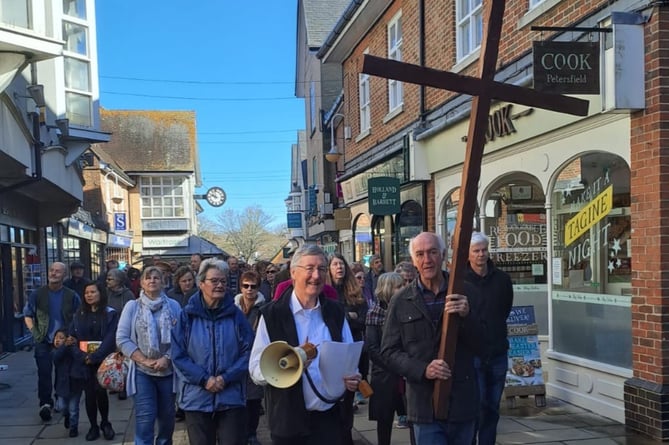 Petersfield's traditional Easter Walk of Witness took place again on Good Friday
(John Callaghan)
The crucifixion of Jesus and his resurrection were the focus but prayers were made for peace in areas of conflict and blessings on the town.
There was a warm welcome afterwards for refreshments in St Peter's Church, including plenty of hot cross buns.
Good Friday worshippers prayed for peace in conflict situations and blessed the town in Petersfield
(John Callaghan)
Churches in the Petersfield area join together again on July 23 at the Avenue playing fields for an afternoon of celebration.
There will be a small stage and various charity and community groups will also be represented.