Petersfield town centre has been hit by a double whammy with the closure of M&Co – and then the news that Beamans was shutting its doors.
And Jacob Wallis, assistant manager at Beamans, says he has been told the town was "too posh" for his shop now.
He believes the boom in online shopping during the pandemic and the gentrification of the town centre have been the major factors in his store's demise.
He said: "No-one wanted to come out during the pandemic and everyone has been buying things online or on Amazon because it's easier – it's hard for little businesses like us when you're up against big names.
"Someone came in the other day and said Petersfield was too posh for us now. It's turning into a town of charity shops, cafés and expensive chains.
"People should shop locally. If they want a nice suit they shouldn't go to Hugo Boss in Gunwharf or somewhere like that, they should go to Hectors in Chapel Street instead."
It's been a gloomy week in the town centre, with the M&Co branch in Rams Walk closing its doors for the last time and a closure notice appearing in the window of Beamans.
The latter – a Tardis-like shop on Swan Street which sells hardware, outdoor clothing, gardening tools and much more – will close in mid-May because of disappointing footfall.
People visiting the Woolworths-like shop may have noticed its sign urging shoppers to "support your local independent businesses because we're all struggling right now".
"People should shop locally," continued assistant manager Jacob Wallis.
It's a sentiment that's been shared by similar businesses in the town, with three independent traders speaking about their struggles with utility bills and rising costs on regional television.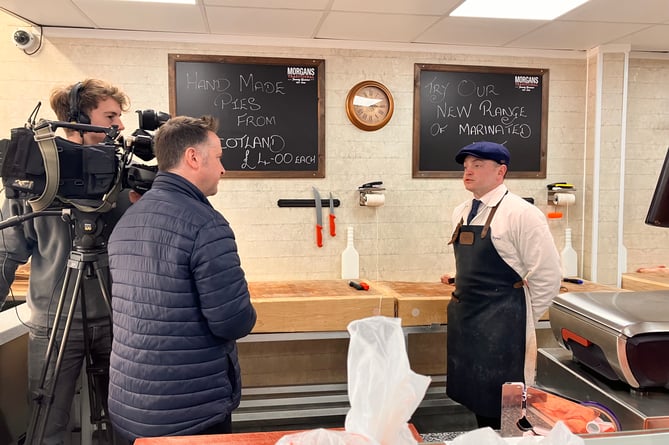 Petersfield butcher Ryan Morgan talks to BBC South Today
(Beth Svarovska)
Antonia Troth would probably agree with that statement as the Madeleine's Kitchen boss appeared on BBC South Today last Wednesday along with other Lavant Street traders.
She talked to reporter Tom Hepworth about the impact that massively-increased electricity bills were having on her business, with Mimi Beattie and Ryan Morgan of Sew Creative and Morgan's butchers also respectively sharing their concerns.
Ms Troth fears the upcoming lifting of the energy cap will make her business unviable as her monthly bill could potentially be treble the £600 it was in 2019. 
"Businesses need all the help they can get and maybe there's something that could be done with VAT that could help," replied Ms Troth when asked how the government could help.
Mimi added: "There are so many uncertainties – prices are going up, wages are going up and you've got a whole team to think about. We've got a lot of expenses to think about."