Ukrainian guests in Waverley face homelessness and emergency accommodation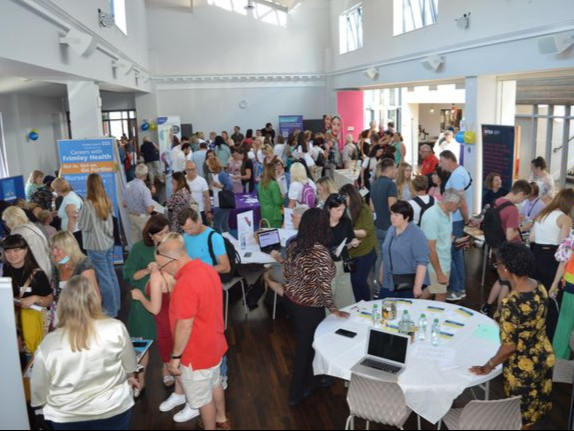 A successful jobs fair was held at the Farnham Memorial Hall in July
(Tindle )
Subscribe newsletter
Subscribe to our email and get updates right in your inbox.
A Ukrainian mum who fled the shelling in Kharkiv for the UK with her two children earlier this year is now considering returning to her war-torn homeland after being evicted by her host family, and moved into emergency accommodation by the council.
Inna Dolbina, her four-year-old daughter Victoria and 18-year-old son Dmitriy were asked to leave their sponsor's home in Farnham last Friday (July 29) after a breakdown in their relationship.
The family were checked into the Travelodge in Farnborough by Waverley Borough Council as an emergency measure while the authority's dedicated four-person Ukraine team sought a new sponsor family.
But with no means of preparing meals or even a fridge, and having struggled to settle in the UK, in desperation Inna travelled to the Ukrainian embassy last Monday (August 1) seeking a passport for her daughter so she could return home.
It is not the first time Waverley, working in tandem with volunteer groups such as Farnham Homes for Ukraine, have had to re-home Ukrainian refugee families in recent weeks – and there are fears it could become a growing problem.
According to Farnham Homes for Ukraine, most host families say they are able to put up refugee families for only nine to 12 months – and there are fears many could also drop out of the government's Homes for Ukraine scheme when the £350 monthly 'thank you' payments end after 12 months.
There is also a shortage of host families available to rehome refugees, as well as a shortage of private rental properties for those seeking independent living.
Just ten per cent of households to express an interest in joining the government's Homes for Ukraine scheme in March have gone on to accommodate refugees in Waverley and surrounding areas, the Herald understands.
As a result, there is a shortage of host families for refugees both arriving in the area, and existing families seeking new homes – with Waverley Borough Council now seeking to identify new sponsors and hosts.
There are currently around 280 properties acting as sponsors and hosts in Waverley and 647 Ukrainian individuals, making up around 440 groups – the highest number of any Surrey borough.
The government is providing funding of £10,500 per person to councils to enable them to provide support to families to rebuild their lives and fully integrate into communities.
Waverley Borough Council has used this money to set up a dedicated four-person Ukraine team, as well as running a successful jobs fair at the Farnham Memorial Hall in July, and passing on funding to help with deposits and advance payments on private rental properties.
However, a shortage of host families and homes available for private rent is already driving some Ukrainian refugee families into homelessness and emergency accommodation.
A Waverley spokesman said: "The council works very hard to ensure guests on the Homes for Ukraine scheme are given the ongoing individual help and support they need.
"While we would not comment on individual cases, where a relationship between sponsor and guest has come to an end, we would always look to move the guest/s into secure temporary accommodation while we go through the rematching process to find a new sponsor.
"Under such circumstances, guests will continue to receive wraparound support from the Ukraine team, while we seek a longer-term solution."
Surrey County Concil offers further benefits, including a three-month bus pass or six-month permit for residents' car parks and free English language courses, while town and parish councils are also providing wide-ranging support for Ukrainian families.
Waverley has asked any homeowners able to host a Ukrainian family, short or longer term, and especially those with self-contained accommodation or annexes, to email [email protected]
Comments
To leave a comment you need to create an account. |
All comments 0