Two cocker spaniel puppies stolen from a home in Farnham on June 19 were found safe and well this morning, say police.
The two puppies were located at an address in Reading and were checked over by a local vet before being reunited with their owner.
A video released by the police shows the joyous moment the two very happy puppies are returned home.
A 39-year-old woman and a 17-year-old boy from Reading were last week arrested in connection to the thefts and the investigation remains ongoing.
A police spokesman said: "We would like to thank everyone for their shares of our appeal and Thames Valley Police for helping us with our enquiries."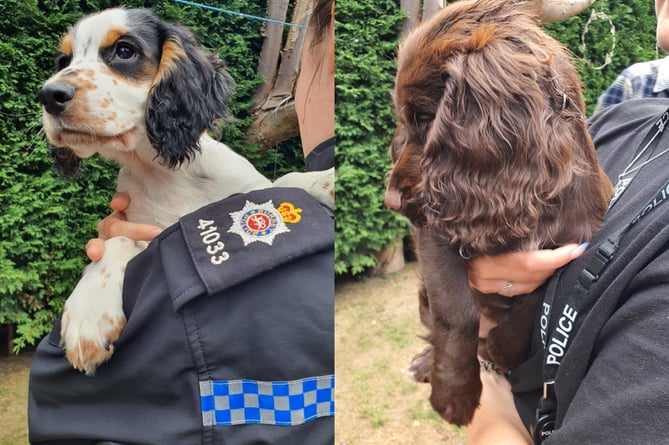 The cocker spaniel puppies from Farnham were recovered by Surrey Police on Tuesday morning
(Surrey Police)
The Farnham puppy thefts have been linked by police to the dog-knapping of a chihuahua puppy in Sunbury-on-Thames on Saturday, June 18.
The chihuahua has already been recovered.
It is believed the suspects feigned interested in buying the dogs, before fleeing the scene with them.
A Surrey Police spokesman said on June 23: "Officers have been investigating extensively and yesterday successfully recovered the stolen chihuahua puppy. A 39-year-old woman and a 17-year-old boy from Reading have been arrested in connection to the thefts."
The police had shared photos of the cocker spaniel puppies and asked anyone with information to contact officers.