Before the arrival of the supermarkets and meat presented in pre-cut portions packed in plastic, butchers' shops were a familiar sight on every high street. This week Peeps is on the trail of some of the area's lost butcher businesses.
We have a couple of photographs in our collection that show the delivery vehicle of "Giles & Co, The Bacon Kings" with a few men, who were presumably the drivers and/or deliverymen, standing at its side. Along with the company's name, the truck sports a logo consisting of a crown above the head of what appears to be a boar.
The firm's address is given on the side of the vehicle as 32, Downing Street, Farnham, and there were apparently several branches.
Peeps would love to hear from anyone who can remember Giles & Co and can tell us anything about the "reign" of these "Bacon Kings". Judging by the clothes the men are wearing and the look of the vehicle, the photographs probably date from between the 1920s to 40s.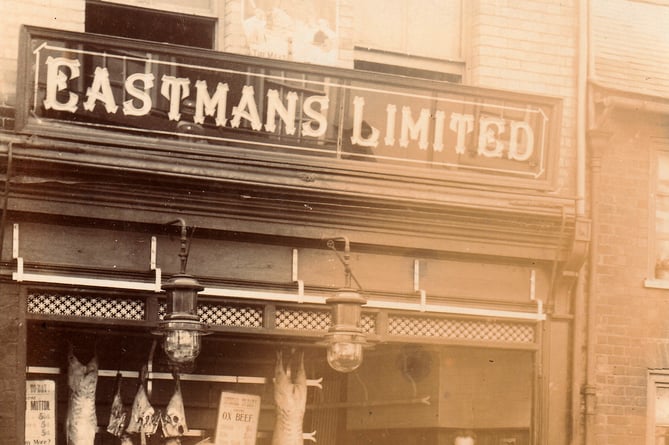 Eastman's butcher's shop once stood at 21 Downing Street, Farnham
(Herald Archive)
Also in the Herald collection is a picture of Eastman's butcher's shop that stood at 21, Downing Street, most likely dating from the early years of the last century. It is understood that one of the two men pictured is HH Chapman, who worked there in 1911.
Eastman's was originally an American company that pioneered the export of frozen meat to Britain from the mid-1870s. This meat was of lower quality than the home-produced equivalent and could be sold more cheaply.
The business was taken over, along with its name, by Eastman's Scottish agents, Bell & Sons of Glasgow, who had built up a large chain of butchers' shops. By 1912, Eastmans Ltd had 1,400 shops but the First World War saw 495 of them closed and most of their staff leave to join the armed forces. After the war they were bought by Vesteys, who went on to become the largest meat retailers in the world.
The photograph shows many cuts of meat not seen today, like mutton and ox beef. Beef steak would cost you eightpence a pound and sirloin of ox sixpence.
The meat was left open to the air and any passing bluebottles! Carcasses of lamb and pig can be seen hanging from hooks – a sight that could still be seen in butchers' shops into the 1970s.