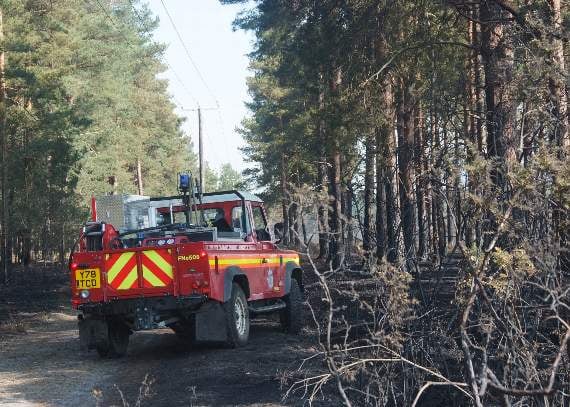 With many areas of heathland tinder dry, one careless spark could expose staff shortages Surrey's Labour leader Robert Evans claimed this week
()
Subscribe newsletter
Subscribe to our email and get updates right in your inbox.
FIRE stations across the county have been forced to close due to staff shortages during the hot weather, with one Labour councillor claiming Surrey's fire service is 'on the edge.'
The shortages come during a row over Government cuts to the fire service, as well as reports which suggest Surrey's Chief Fire Officer Russell Pearson has been 'sacked.'
It has also been reported that in some cases a lack of crew members has resulted in fire engines being left locked up.
Labour county councillor Robert Evans claimed that such cuts are leaving parts of the county in a 'perilous situation,' with what seems to be "an ever-increasing number of times when our fire stations are closed due to staff shortages".
He added: "In this very hot weather, when just a small spark can create a large fire in moments, it means Surrey's firefighters are operating right on the edge."
At the weekend, there was limited service at Guildford, Camberley and Woking fire stations, while a number of other stations across the county were forced to close.
One of the stations closed on Saturday was Painshill, resulting in West Sussex Fire being called upon to attend an animal rescue in Guildford.
Mr Evans added: "I raised this issue of staff shortages as an emergency at the full Surrey County Council meeting on July 10, but I was fobbed off.
"To cap it all, the head of the fire service in Surrey has now been sacked - apparently for his repeated warnings that planned budget cuts would leave Surrey Fire and Rescue Service unable to protect the public."
He went on to add: "Earlier this year I was privileged to be at Windsor Castle when HM the Queen honoured Surrey's chief fire officer Russell Pearson with the Queen's Fire Service Medal and now he's been ousted.
Richard Jones, executive council member for the Fire Brigades Union in the South East, said: "I am in no doubt the only reason Surrey County Council would replace Russell Pearson is so they can get someone in to do a hatchet job, solely to make cuts without any regard to public or firefighter safety.
"With emergency response times in Surrey at their slowest since 1996, the number of fires we attend and rescues we make increasing year on year since 2015, further cuts are absolutely absurd and show Sirrey CC are prioritising monetary savings ahead of public safety."
The county council refushed to comment on claims about Mr Pearson's future. But, while agreeing local authority services were under 'huge financial pressure,' having to save £250million by 2021, a spokesman hit back at the other claims, saying: "Despite this, we're committed to transforming the fire service to meet the modern day needs of residents.
He said: "We are currently making significant investment to our fire stations, equipment and vehicles and recently carried out a recruitment campaign. Any proposed changes to our fire service will be informed by intelligence, risk and local circumstances, and of course, subject to public consultation."
It was also confirmed by the council the fire service budget in 2010/11 was £36.2million, while in 2018/19 it is £31.5million.
Comments
To leave a comment you need to create an account. |
All comments 0