Alton coffee shop owner Chariya Khattiyot, 40, has gone from master coffee roaster to MasterChef Champion, becoming the 19th amateur cook to claim the coveted title on BBC One's prestigious cooking competition.
Facing off the talents of 44 other ambitious contestants, Chariya triumphed at the end of eight exciting weeks of MasterChef culinary challenges, which culminated in a white-knuckle cook-off against the remaining finalists, Anurag Aggarwal and Omar Foster. 
Chariya was awarded the revered MasterChef trophy by judges John Torode and Gregg Wallace on TV's biggest cooking competition.
An emotional Chariya reacted to her win: "This is unbelievable. It means the world, the sun, the moon and everything to me. I don't think anything can top this. I'm so happy! 
"This just proves that if you dream something and you work really hard and you never give up, you can get it. That's what my grandad said to me - never give up. He would be so proud of me!"
Both judges also shed a tear as they announced the Champion.
MasterChef judge, John Torode, said: "Chariya's food has always been honest and from the heart. It's always exciting, it's always unusual and it's always been beautiful and addictive. 
"And not just punchy, exciting Thai flavours that we saw at the start, but also exceptional, innovative and exciting technique all the way through. A proper master."
MasterChef judge, Gregg Wallace, commented: "Chariya is outstanding and one of the best MasterChef contestants I can remember. Chariya has delighted and amazed me in equal measure. 
"Some of her creations are absolutely beautiful - almost with an artist's touch. She is one of the most creative, skillful cooks I've seen on MasterChef for a long, long time."
Speaking ahead of the last cook-off, when winning was in touching distance, Chariya said: "From a little girl who cooked in a kitchen with no walls, to lift that trophy is going to be the story I can tell to inspire a lot of girls who have a hard life. If you work really hard, I'm sure you can achieve something."
In a gruelling and exciting final week, MasterChef viewers have seen Chariya travel to Istanbul, Turkey, where she got a taste of centuries-old cuisine, cooking traditional food for discerning locals in their historic village, mentored by one of Turkey's best known chefs, Refika Birgül.
Then at two Michelin starred Istanbul restaurant, Turk, Chariya was tasked by chef Fatih Tutak to recreate a dish from his celebrated tasting menu during a busy service. 
The trip ended with a challenge at one of Istanbul's most exclusive addresses – Pera House – home to the British Consulate General.
Chariya worked under immense pressure to meticulously create her dessert – a Turkish delicacy of chicken breast pudding, which delighted her lunch guests, including the British Consul General Kenan Poleo, Fatih Tutak and Refika Birgül and the three MasterChef Turkey judges.
The penultimate challenge of the week saw Chariya face the once-in-a-lifetime culinary test of Chef's Table, hosted at Core - the three Michelin starred restaurant run by one of the most celebrated chefs in the world, Clare Smyth MBE. 
Chariya took on one of Clare's most breath-taking creations for a table of leading chefs. The feedback on Chariya's food included: "perfect" (Nieves Barragán Mohacho), "incredible" (Sat Bains) and "beautiful" (Tom Kitchin).
Tonight (Thursday), the Final Three took on the most intense and high-pressured challenge of the competition - cooking the best three-course meal of their lives to prove to John and Gregg that their culinary skill, determination and creativity could earn them the MasterChef title.
Chariya's winning menu started with a Thai Lotus Tuille, filled with Coconut Jelly, Fried King Prawns, Pomelo Fruit Salad, flavoured with Honey, Palm Sugar and Coconut. On tasting it, Gregg said: "That's fabulous. That's a delicate little morsel, packing a very big punch."
For her main course, Chariya served a traditional Northern Thai "Khantoke" Sharing Platter of Wagyu Sirloin Steak in Hung Lay Curry Sauce, Minced Lamb in a Spicy Tomato and Shrimp Paste, Jackfruit and Scallop Salad, Sticky Rice and Scallop Crisp Crackers – to which John responded with: "I could eat that all day long."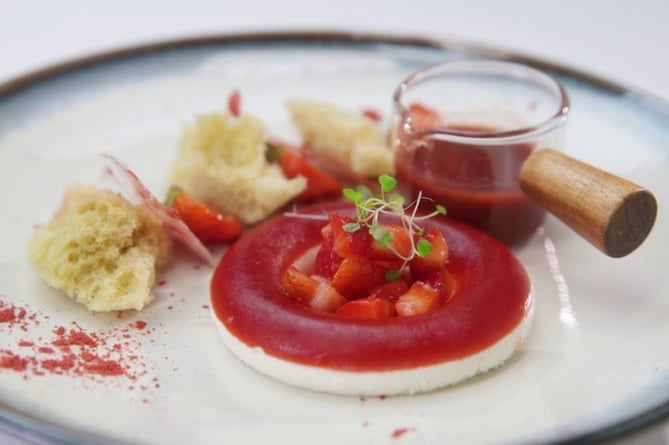 Chariya's take on strawberries and cream
(BBC)
Chariya finished her menu with her take on strawberries and cream - a strawberry jelly and vanilla cremeux ring, filled with macerated strawberries in strawberry liqueur, pistachio sponge, strawberry shards and a strawberry and Thai basil sauce.
This was both a nod to the UK and her love of strawberries – originating from her childhood in Thailand when she would look forward to eating strawberries once a year with her grandad.
After the tasting, Gregg told Chariya: "Since the first time you walked into this kitchen, it's been dish upon dish of exciting, beautiful food. What I really admire about you is just how hard you work in pursuit of perfection - to really uncover new technique, to find bigger and bigger flavour. Do you know who else has those qualities? Top professional chefs. You are the real deal. You're an amazing cook."
Originally from Thailand, Chariya lives in Basingstoke, with her fiancé Adam, whom she met in Japan whilst studying there in her early 20s. 
After moving to the UK, Chariya spent seven years as a district manager for a national coffee shop chain before setting up her own coffee roasting company and becoming a Master Coffee Roaster - running Coffee Cherry in Normandy Street, Alton
Chariya's love of cooking stems from growing up in Northern Thailand with her grandad who, with limited means, taught Chariya how to make the most out of what they had and get the best flavours from food. 
They grew their own vegetables and cooked on a fire outside to create simple but tasty meals. During her childhood Chariya also often loved to play restaurant, and remembers warmly that her grandad would always be her customer.
Commenting on her style of cooking, Chariya says: "I am very passionate about bringing Northern Thai cuisine to the UK, while making use of local ingredients. 
"Thai food is not just Tom Yam and Pad Thai. It has so many flavours, layers and textures and that is phenomenal. In many ways, my dishes are a fusion between South East Asian and Western food. I spend hours and hours in the kitchen perfecting my recipes, but I also love to have fun with them."
On her MasterChef experience, Chariya added: "I've loved watching MasterChef for many years and decided to enter the competition so I could showcase Northern Thai cuisine.
" In some ways I've been mentally preparing for this for a while. I was initially nervous to cook for John and Gregg, but they were so supportive and they made me want to be the best! I'm also very competitive by nature and I think that's helped with my mindset in the competition."
Looking to what's next, Chariya said: "I hope there will be opportunities to work with food and I'm excited about getting experience and turning this love of cooking into a profession. 
"Long term, my dream is to open a restaurant – and eventually multiple restaurants - where I can showcase the food of my homeland in Northern Thailand – and hopefully work towards earning a Michelin star!
"I want to show the world that Northern Thai food is amazing, because it really is. I just love to see people's faces light up when they eat my food."