It is getting hot and steamy in one Haslemere care home this summer. 
Love Island might be over, but life in the villa resumed for superfan Marion Cleak, who celebrated her 75th birthday on August 5 with a Love Island themed party. Marion is a resident at CHD Living's Brownscombe Care Residences, and while the Haslemere care home is a far cry from the Love Island villa in Majorca, temperatures certainly rose when the guest of honour arrived. 
The scantily clad 'butler in the buff' caused more than a few red cheeks - a welcome distraction from the wash-out weather. 
Throwing it back to Love Island's 2018 season Firefighter Challenge, Marion also received a visit from local firefighters, who dropped in especially to sing her a special rendition of Happy Birthday complete with fire engine and sirens.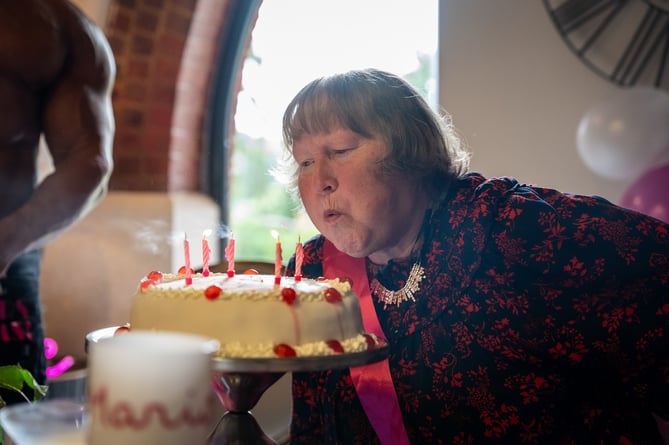 Marion said: "What a wonderful day! That was a very cheeky surprise from the staff but it made my day so memorable. Celebrating with so many family and friends was very special and so much fun. 
"I'm very thankful to everyone who came to my party and for all of the wonderful surprises – I can't believe the local firefighters came just to sing to me. I'm such a big Love Island fan so it was brilliant of the team to make this the theme for my party. What a day!"
Brownscombe's wellbeing co-ordinator, Charlotte Wareham, said: "Marion is such a warm and bubbly personality within our Brownscombe community and she has a wonderful sense of humour. It's how we knew that she'd absolutely love her 'butler in the buff'. We were so grateful to our local fire service for popping along too. 
"While the team wanted to plan a great birthday treat, we also wanted to highlight that life doesn't stop being fun simply because someone goes into care."