With the news recently about plans to close Firgrove Hill, Farnham, overnight for six whole weeks in the autumn, and a new Firgrove Hill/A31 junction proposed by Surrey County Council in the longer-term, we wonder if this 1950 scene of a traffic queue at Farnham Station level crossing is shortly to be repeated.
Undoubtedly the increase of traffic on the roads since is sure to make for much longer queues.
The reason for the hold-up can be seen in the second image, also from the Herald Archive, which shows even more major work on the Firgrove Hill railway bridge than the currently proposed mere repainting.
We don't have full details on the story from 1950 until the digital scanning of the old newspapers is done, but it seems then that the bridge was being completely rebuilt. I wonder how long that took – possibly not much longer than the six weeks proposed this time which doubtless is affected by the increased health and safety precautions of the 21st century?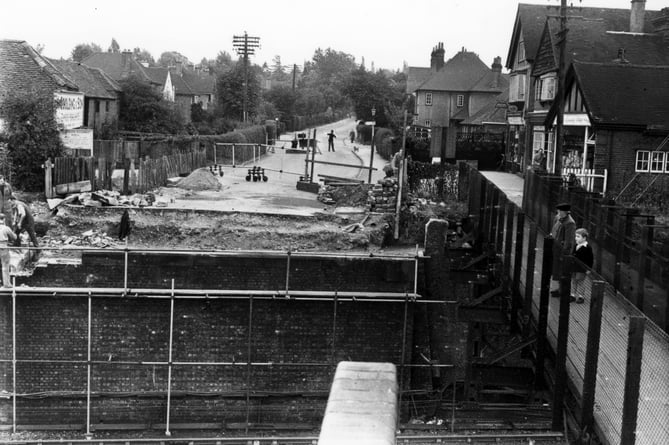 Firgrove Hill railway bridge rebuilding in 1950
(Herald Archive)
From this and other photographs in the series, it seems a temporary pedestrian bridge was provided so residents could still walk into the town. The railway, too, was kept fully open as another shot shows a steam loco passing through with work still progressing.
Back in 1950, of course, there was no by-pass bridge there either. Firgrove Hill continued on down to Bridge Square by a narrow spit of land left behind when excavation works on the new road cutting were suspended at the start of the Second World War.
Work on the road restarted in 1955 and the bridge was opened in 1957 along with the-then two-lane by-pass road. Also recently it has been reported that bridge was being inspected. Let's hope they don't find too much wrong because closure of that for any remedial works would cause even more bottlenecks and doubtless for even longer.