Cyclist is first Briton to pass million mark
Wednesday 20th November 2019 10:00 am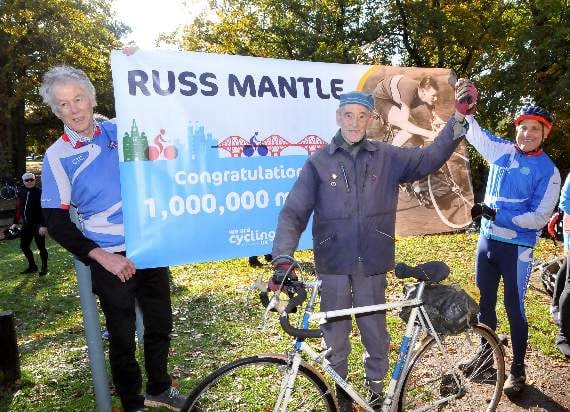 Russ Mantle after passing the million mark
Subscribe newsletter
Subscribe to our email and get updates right in your inbox.
RUSS Mantle has achieved quite a few feats in his cycling career.
He's conquered Tour de France mountain passes and has cycled the equivalent of Land's End to John O'Groats more than 1,000 times.
The 82-year-old set numerous records at Farnham Road Club (FRC) and racked up a staggering 22,500 miles in one year on his bike in 2001.
So when the "mile eater" from Aldershot passed the million-mile mark last Thursday, the octogenarian refrained from wild celebrations.
"It's just another milestone," said Russ to the world's media after racking up his millionth mile last Thursday in Mytchett.
"In the past it was 70,000, then 80,000, then 90,000 so a million is just another milestone to pass. I'll probably be close to two million by the time I'm 100.
"There's been a natural progression and I knew I would get to a million."
Film crews from across the world were waiting for Russ at the end of his five-mile cycle from his Haig Road home to the Canal Centre.
His diary entry should make interesting reading as Russ has kept a meticulous record of every ride he's ever completed since 1952, noting details of terrain, temperature, wind speed, length and conditions.
"To me it just seemed obvious to record my mileage because that's what a cyclist does," said Russ, who first used a cyclometer that made a "tick tick" noise before replacing it with a more modern one in the 1990s.
Russ probably passed the million- mile mark a few years ago as he fell in love with cycling long before he started recording his mileage.
Forget protein bars and energy drinks – his fuel is a bowl of cereal and a slice of toast, and sometimes he stretches to a bit of coffee.
He's also resourceful as he used aluminium tubing and resin to replace a good chunk of the Holdsworth road bike frame that carried him across the million-mile threshold.
"I make things last a long time," said Russ, who once cycled 265 miles from Aldershot to Monmouthshire and back in a day.
"This same frame has done all the Alps, France, Spain, Italy, Germany, Austria, Yugoslavia and Holland. Also Sardinia and Corsica, which is my favourite island, Ireland and various other places.
"It also did a 14,000ft pass in Colorado. It was easy but frustrating because it kept zig-zagging and you didn't seem to get anywhere."
He's hit a few bumps in the road and Russ has been involved in four serious accidents, including a hip break in September 1992.
He was airlifted to hospital after suffering a heart attack while riding in Wales three years ago, although he didn't believe the doctor, and prefers wearing his trusty cap to a helmet. He's never worn one as "you can't fit a helmet in a pocket".
Paul Charman, FRC chairman, was one of many cyclists who accompanied Russ on his milestone ride to Mytchett and is not sure the rider's achievement will be matched.
He said: "Russ used to be a very fast cyclist and was one of the quickest in the south.
"He held all the FRC records at one time but in the 1970s he switched over from doing time trials to road riding. He would think nothing of getting on his bike and cycling to Weston-
super-Mare and back in a day.
"What he's done is phenomenal. Most years he was averaging 22,000 miles and even this year he's done 8,000, which is still a lot."
Russ is a member of the 300,000 Mile Club for cyclists who have racked up the same distance or more. His nearest competitor is trailing by around 200,000 miles.
"We reckon it would take someone 67 years, cycling 14,000 miles a year, to reach a million miles," said fellow member Dave Barker, who travelled from Sale to Mytchett to watch Russ become a millionaire.
"What he's done is just amazing and I wanted to be here when he did it because it's just phenomenal."
Comments
To leave a comment you need to create an account. |
All comments 0