'De-cluttered' vase sells for half a million
By 
Adam Jones
  |   University for the Creative Arts BA (Hons) Journalism and Media Production student   |
Monday 6th September 2021 10:45 am
@ajonesrfc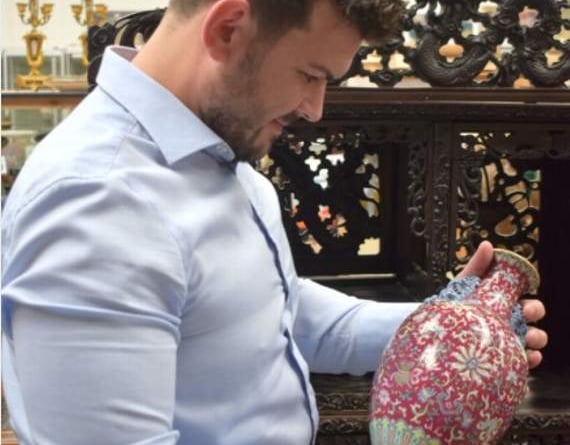 Subscribe newsletter
Subscribe to our email and get updates right in your inbox.
A CHINESE vase estimated to be worth up to £20,000 sold at auction for more than £500,000 after a tense bidding battle.It finally ended up in the hands of an anonymous bidder, believed to be Chinese.
The 30cm by 14cm twin-handled porcelain falancia ruby-glazed vase with a Qianlong mark was wonderfully decorated with double gourd motifs, foliage and trailing vines. Although generally in good condition, there issome minor flaking to the enamelling.It was offered for sale by Hannam's Auctioneers of The Old Dairy at Norton Farm in Selborne.Auctioneer Harry Hannam said: "We had previously sold a small jade Buddha for the vendors family when we first formed the company in 2014."The estimated value of the vase was low because there are lots of fakes about, so we are always extremely cautious when cataloguing. "But clearly it wasn't a fake! "It eventually sold for a record £520,000 plus fees, one of the highest prices for a Chinese porcelain piece sold outside London. "The vase almost certainly came from the imperial palace in China and was possibly looted during the Boxer rebellion. "It was deemed to be made between 1736 and 1795, and Chinese buyers are always keen to buy back historical pieces."The vase came into the sellers family in London in the 1980s. The vendors father ran a demolition company and it was given to him in lieu of a bad debt.After he died, his wife inherited and she then died in the early 2000s and left to their the son, now 70.He recently decided to move to a retirement home on the south coast, and before he moved south, he decided to go through his belongings and 'de-clutter,' and he consigned the vase for sale. Both the seller and buyer wished to remain anonymous.
Comments
To leave a comment you need to create an account. |
All comments 0