The last thing my son said to me before he left to go on holiday with his dad was, "do the 'Barbenheimer'", writes Noni Needs.
Barbie and Oppenheimer are the two biggest movies of the summer, released on the same day, July 21, but worlds apart in terms of gender. And watching one after the other, is "a thing" and a huge commitment of time, so first stop Barbie. 
Barbie is about the doll, produced by the toy company, Mattel, the other, a three-hour epic film about the man who invented the atomic bomb. In the first week the Barbie movie has grossed over $529 million in ticket sales worldwide.
Barbie Land is the perfect place to live for Barbie, where women are all powerful. Not so for Ken and so begins a journey of self-discovery for Barbie and Ken after they visit the real world with an existential crisis.
It's also a 'thing' to dress in pink to watch. The audience at the Guildford Odeon, screen one did not disappoint. The man scanning our tickets wore a Ken wig and a Barbie photo booth was in the foyer.
As we, four friends, sat down in our seats the noise from the auditorium was excited with chatting as the ads rolled in the darkness. Dolly said, "It's packed." And I could see it was absolutely rammed.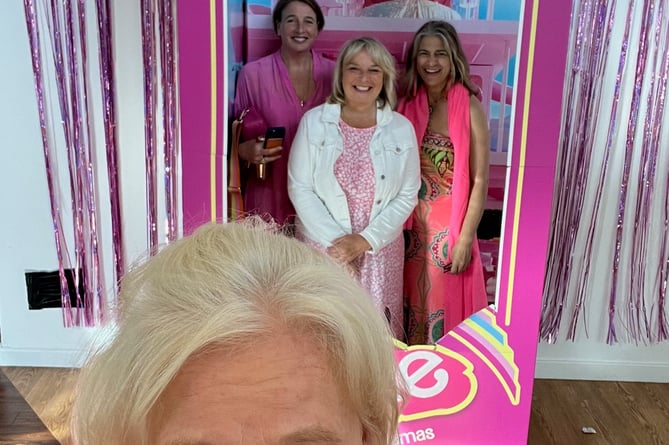 Petersfield's over-50s Lou Gray, Rachel Perry, Sarah Gale and Noni Needs go Pink for Barbie
(Lou Gray Pictures)
The buzz was palpable, during the film, laughter. We watched the 5.50pm screening and supper afterwards at Theion in Guildford. Another friend had gone to see Barbie in Portsmouth with her daughter, 20. I got a text, "Thought Barbie was funny. You?"
As we walked through the Guildford night, back to our car, a lady on the street called out, "Ladies you look beautiful in pink. Guildford adorned with swathes of people in pink and of course, Rachel, Dolly, Lou and I dressed in pink.
I never had a Barbie, and my brother had Action Man with a green action man lifeboat. He lost one Christmas eve as my father used it to dig us out of a snow drift. 
Rachel, one of three sisters, only had Action Man, didn't have a Barbie so she let her two daughters have Barbie but no Ken. Rachel's 26 year-old daughter, saw Barbie a few days ago and loved it, told us to dress in pink and cried at the end.
Dolly said, "I think I preferred the Greek meal we had to the film."
I think Barbie gives you a lot to think about with everything that is going on with patriarchy and matriarchy in the world. I liked the message that in any relationship, everyone is an individual and should be regarded as such. And what may suit one person doesn't suit another and it's ok just to be a mom. 
We were all in agreement that Margo Robbie was the perfect actress to play Barbie and left wondering if Ryan Gosling's pecks were real? 
Did you dress-up to go and see Barbie and stand in the 'box'? Have you done the Barbenheimer? Send your photos to [email protected]