Farnham Youth Choir has won another international trophy after going head to head with singers from across the globe in southern France.
The youth choir, which draws members from across Surrey and Hampshire, tasted victory at the Concours Choral International in Provence.
Conducted by Patrick Barrett and accompanied by Matthew Rickard, FYC won the award for best children's choir following their outstanding performance against choirs from China and Chartres.
FYC also competed alongside adult choirs in the 'Sacred Music' and 'Pop, Gospel, Spiritual and Folk' categories and were delighted to be the children's choir placed highest in each category.
A highlight of the trip for all the young singers was meeting choirs from around the world. FYC member Keira said: "It was an amazing experience as everyone from musical backgrounds across the world were coming together to sing.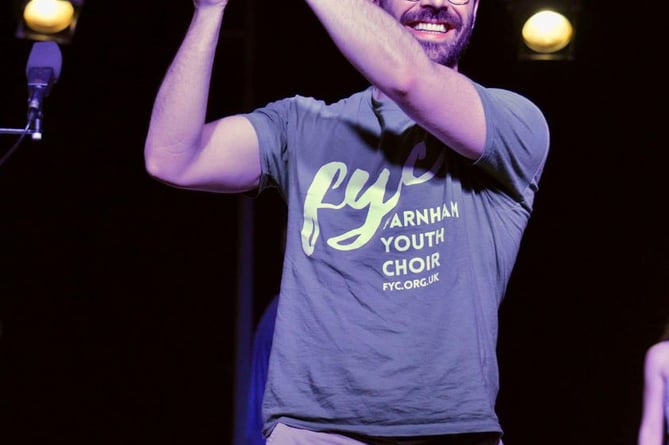 Farnham Youth Choir conductor Patrick Barrett celebrates the choir's win in Provence
(FYC)
"It was also amazing to see the other choirs perform to such a high standard and to spread their love for choral music with big smiles on their faces."
The tour was a great bonding experience for all involved and cemented the already strong friendships between members. 
FYC parent Donna, who witnessed this first hand in Provence, said: "The FYC singers all seem genuinely kind and supportive of each other and this seems to be amplified when they are together.
"These tours give our youngsters life-changing experiences and lessons on how to be kind and accepting human beings."
So, where next? Farnham Youth Choir choir is looking forward to celebrating its 40th anniversary in 2024 with a special concert in London in March 2024 and a tour to the World Choir Games in Auckland, New Zealand.