Centenarian Frank Rhodes has been presented with a certificate by the mayor of Farnham, Councillor Alan Earwaker, celebrating his 100th birthday and honouring his contribution to Farnham In Bloom.
Frank, who used to display his flowers at the Staffordshire County Show and Shrewsbury Flower Show, has won a gold award at Farnham In Bloom three years in a row for his floral displays at Abbeyfield's Wey Valley House, his home for the past 12 years.
He was born and bred in Staffordshire and was injured fighting at Anzio in the Second World War during the Allied advance through southern Italy. He still has a "hole in his head" from a shrapnel burst suffered in Anzio, and also served with the North Staffordshire Regiment as an infantryman in North Africa and Palestine.
After the war, Frank enjoyed a long career as a joiner and has retained a love of gardening into his later years.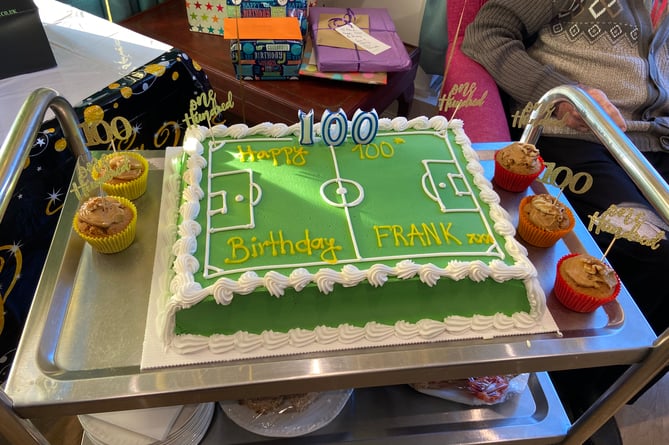 Frank Rhodes' football-themed 100th birthday cake
(Daniel Gee / Farnham Herald )
He moved from Staffordshire after the death of his wife to be close to his family in Farnham, moving into Abbeyfield's Wey Valley house in 2011.
His family have since moved to San Diego in the US for work, but his granddaughter Sarah and her husband Colin, great-grandsons Will and Louise, and great-granddaughters Poppy and Paisley returned to celebrate his birthday on January 24.
Frank is also a big football and cricket fan, supporting Wolverhampton Wanderers all his life, and cut a football-themed cake after receiving his certificate from the mayor.
He also received a card from King Charles III – one of the first centenarians to receive a card from the new monarch.
Sarah, granddaughter, said Frank was the "best granddad ever" and said gardening has "kept him going" by getting him outside and giving him a purpose and interest.
But how does Frank think he's made it to 100? "I've just been lucky," he said.