LISS village centre has lost some of its sparkle as the long-serving couple behind Jade News have been given an emotional send-off.
Around 150 people crammed into the Triangle Centre on Sunday to thank Eddie and Lisa Simmons for 36 years of service to the village.
The pair started with a bang as they first appeared behind the counter of the Station Road newsagent in the aftermath of the Great Storm in October 1987. So it was fitting they said goodbye on a day of thunder and lightning with the couple getting three cheers from their grateful friends and customers.
John Bridcut led the tributes at their farewell tea party, saying Station Road won't be the same without their presence and the warmth and personal attention they gave villagers.
"We're going to miss them hugely," said John before praising their "kind, patient and considerate" way with customers."
"The number of people here today is a sign of the great affection of which you're held. You are treasured."
A big secret was also given away as villagers finally learned the significance of 'Jade'. It stands for family members Jamie, Andy, Daniel and Eddie with Lisa being similar to Liss.
Not many people knew that, but more remembered their roles away from the shop, from the newspapers they delivered themselves to their part in the Christmas Fayre.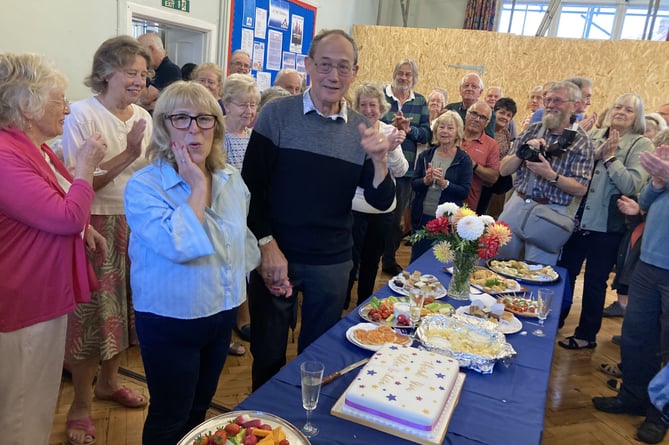 The pair were treated to a leaving cake in recognition of 36 years of service to the village.
(Tindle/Paul Ferguson)
The party was organised by Mr Bridcut with help from Sue Halsted, Sue Jordan, Michael Oakley and Claire Oakley.
Villagers also filled a leaving card and donated a £820 luxury hotel voucher. The couple, who welcomed everyone individually before cutting a leaving cake, told guests their tenure had been a joy.
"You've always made us feel very welcome," said Eddie, before Lisa added: "If it wasn't for the villagers we wouldn't have the business so thank you all from the bottom of our hearts.
"This has been absolutely amazing."