A decorated war veteran from Whitehill is making his final preparations to run the iconic 250km Marathon des Sables challenge across the Sahara Desert starting on Sunday, April 23.
Former Colour Sergeant and Military Cross recipient Brian Wood, 42, is taking on the epic race as his third and final long-distance challenge for charity Walking with the Wounded.
He ran 25 marathons in 25 days in November 2021 and last autumn ran 35 marathons in 35 days – including four on the Falkland Islands.
He has to date raised more than £172,000 for the charity helping veterans who have been mentally or physically wounded get back on their feet. He wants to make one final contribution with this final challenge in southern Morocco – acknowledged as the toughest footrace on earth – to hit £250,000. 
Hampshire-based IT company, Matrix, was the first to step up to the plate with support for Brian, but more support is needed.
"The fact is that the conditions are so extreme and inhospitable that only 47 per cent of the 1,000 runners actually complete the seven-day course across the endless sand dunes, mountains and white-hot salt plains," said Brian.
"And as if that wasn't enough you have to carry what you need to survive on your back, which probably weighs about 10kg, so it's absolutely vital I have the proper preparation."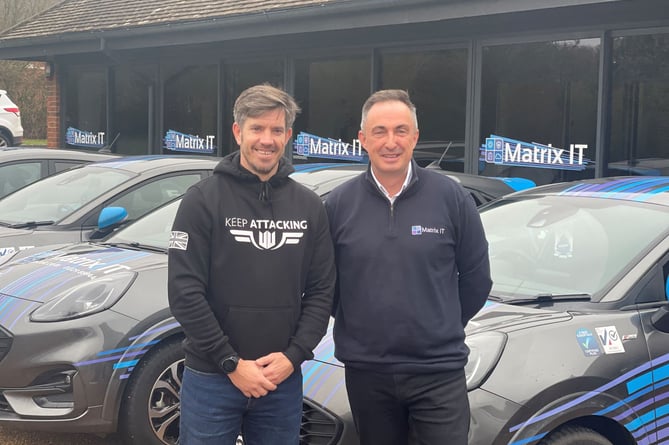 Nic Cronin, managing director of Matrix (right), got to know Whitehill veteran Brian Wood (left) through their love of Portsmouth FC
(Matrix)
Nic Cronin, the MD of Matrix, got to know Brian through their love of football and have formed a firm friendship.
He said: "Brian has done the most incredible job and supporting him for this race is a privilege. Rest assured we'll be tracking his every mile at our headquarters in Fareham I would urge other local companies to also help if they possibly can."  
Mr Wood, who is married with two boys aged 13 and 18, was awarded a Military Cross for gallantry in combat for his actions during the Battle of Danny Boy in Iraq in 2004, which was turned into a film shown on BBC Two.
A mural named Woody's Walk by local artist Ryan Brudenell was unveiled at an underpass in Bordon in September last year as a tribute to what Brian's achievements mean to his family, friends and the town's residents.