The 2023 local election results are in at the Waverley Borough Council count hall – with the Lib Dems increasing their grip on the borough council and the Tories suffering heavy losses.
The Lib Dems improved from 14 seats at the last borough poll in 2019 to 22, albeit after widespread changes to ward boundaries in Waverley, while Farnham Residents won 13 seats. This is on a par with the resident group's performance in 2019.
The Conservatives, however, saw their share of the seats drop from 23 in 2019 to just ten – with opposition leader Stephen Mulliner the highest-profile casualty on a crushing day for the Conservatives nationally too.
Two independents retained their seats, as did the Labour Party, while the Green Party held on to one seat.
Waverley Borough Council seats won by each party:
Conservative – 10
Farnham Residents – 13
Liberal Democrat – 22
Green Party – 1
Labour – 2
Independent – 2
Reform UK – 0
Trade Unionist and Socialist Coalition – 0
Total seats declared – 50 of 50
With 50 seats up for grabs, the magic number for any party to win an outright majority at Waverley Borough Council was 25 seats.
But with no party able to reach that figure, a continuation of the council's ruling Lib Dem/Farnham Residents/Green/Labour coalition is almost certain.
Scroll down for a full list of Waverley Borough Council election results.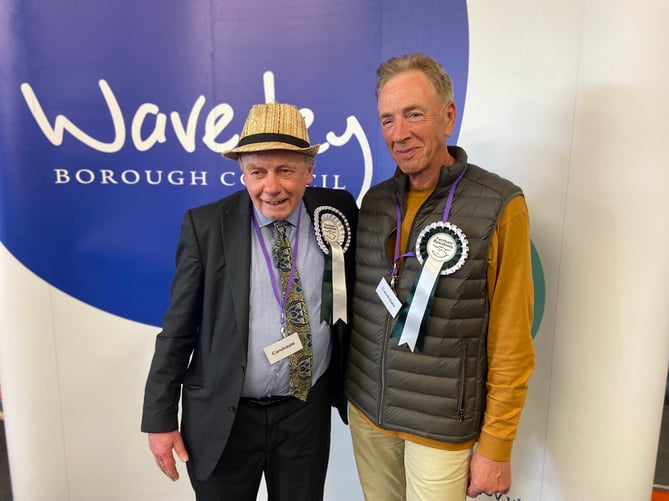 David Beaman and Graham White won seats for Farnham Residents in the new ward of Farnham North West
(Daniel Gee )
The Farnham Residents retained all the gains they made at the last full borough poll in 2019, winning 13 of the available 16 borough council seats in the Farnham area, while the Lib Dems continue to make gains elsewhere in Waverley – with Elstead and Peper Harow one of the seats to fall to the Liberal Democrats.
But reflecting the national picture, it was another devastating election locally for the Conservatives, which won 53 seats on the then-57 seat council as recently as 2015 but has seen its voter base collapse in recent elections.
Leader of Waverley's Conservative opposition group, Stephen Mulliner, was the biggest casualty – losing his seat in Haslemere East after 24 years representing the area.
However, long-serving Conservative councillor and opposition deputy leader Carole Cockburn retained her seat in The Bourne – inflicting on Farnham Residents their one and only defeat – while another long-time Tory campaigner Peter Martin held on to his seat in Godalming Holloway.
The Lib Dems also took seats in Farnham Moor Park and Farnham Weybourne, where Farnham Residents only stood one candidate in the two-seat wards.
Lib Dem candidate for Chiddingfold, Dave Busby, is congratulated on his election win by fellow Lib Dem Liz Townsend
(Daniel Gee )
Dave Busby, who won a by-election to represent Chiddingfold and Dunsfold at the borough council just five months ago, was returned as the Lib Dem councillor for the re-drawn Chiddingfold ward in the first Waverley declaration shortly before 3pm.
The Lib Dems also bagged five of Haslemere's six available borough seats – the other going to the Conservatives – while the Lib Dems also won both of Hindhead and Beacon Hill's seats.
Lib Dem borough council leader Paul Follows retained his seat in Godalming Central and Ockford, as did Labour's Nick Palmer and Green Party's Steve Williams in Godalming Binscombe and Charterhouse.
David Munro, standing as an independent, won the new Western Commons seat – with the addition of Thursley to his former Waverley Western Villages seat incorporating Churt, Tilford and Frensham.
Parish and town council ballot papers will be counted on Sunday.
Waverley Borough Council 2023 local election results in full:
Alfold, Dunsfold & Hascombe:
Kevin Neil Deanus (Conservative) – 572 (ELECTED)
Zahid Naqvi (Labour) – 94
Guy Brooks Palmer (Lib Dems) – 377
Kurt Connor Relleen (Conservative) – 394 (ELECTED)
Amanda Taryn Sampson (Green) – 257
Bramley & Wonersh (three seats):
Lauren Kay Atkins (Conservative) – 1,450 (ELECTED)
Jane Kathryn Austin (Conservative) – 1,673 (ELECTED)
Martin William D'Arcy (Green) – 903
Michael Rodney Goodridge (Conservative) – 1,390 (ELECTED)
Simon Joseph Hall (Labour) – 271
Christopher James Hard (Labour) – 203
Mark Claude James Vivian (Lib Dems) – 1,077
Paul William Wright (Lib Dems) – 1,073
Dave Busby (Lib Dems) – 668 votes (ELECTED)
Kathleen Patricia Thompson (Conservative) – 221
Cranleigh East (three seats):
Simon Robertson Chatfield (Conservative) – 617
Dennis Arthur Davidson (Conservative) – 597
Stephanie Ann Kelly (Conservative) – 666
Ken Reed (Lib Dems) – 1,207 (ELECTED)
Ruth Carolyn Reed (Lib Dems) – 1,316 (ELECTED)
Philip Townsend (Lib Dems) – 1,351 (ELECTED)
Mark West (Labour) – 246
Arthur Martin Barringer (Reform UK) – 81
Thomas George Cox (Conservative) – 622
Joseph Ben Davies (Labour) – 113
Laurence Dunn (Trade Unionist and Socialist Coalition) – 22
Alan Rodney Morrison (Lib Dems) – 836 (ELECTED)
Christopher William Pierce (Conservative) – 682
Liz Townsend (Lib Dems) – 1,110 (ELECTED)
Ellie Waple (Trade Unionist and Socialist Coalition) – 6
Elstead & Peper Harow (one seat):
Sheila Dowell (Conservative) – 416
Gemma Felicity Long (Lib Dems) – 649 (ELECTED)
Ewhurst & Ellens Green (one seat):
Nigel Edward Garfit Clowes (Conservative) – 377
Michael James Higgins (Lib Dems) – 462 (ELECTED)
James Bryan Mitchell (Labour) – 29
Keith Nisbet (Reform UK) – 34
Carole Agnes Cockburn (Conservative) – 776 (ELECTED)
Aly Fitch (Conservative) – 533
Michaela Jane Martin (Farnham Residents) – 614
Christopher George Murray (Farnham Residents) – 621 (ELECTED)
George Wilson (Green) – 357
John Michael Barrington Gaskell (Labour) – 429
George Adam Legrew Hesse (Farnham Residents) – 575 (ELECTED)
Heather McClean (Farnham Residents) – 621 (ELECTED)
Clare Louise Ovens (Conservative) – 188
Anthony John Watson (Conservative) – 172
Rebecca Michelle Birchwood (Labour) – 454
Arthur Forrest (Conservative) – 239
Jerry Hyman (Farnham Residents) – 841 (ELECTED)
Kika Mirylees (Farnham Residents) – 851 (ELECTED)
William Toby Page (Conservative) – 213
Rosamund Croft (Conservative) – 233
Tony Fairclough (Farnham Residents) – 834 (ELECTED)
Andrew Desmond Jones (Labour) – 360
Timothy Stacey (Conservative) – 214
Michaela Colleen Wicks (Farnham Residents) – 837 (ELECTED)
Sarah Marie Austin (Conservative) – 397
Sean Patrick Donovan-Smith (Conservative) – 273
Andy MacLeod (Farnham Residents) – 981 (ELECTED)
Mark Ian Merryweather (Lib Dems) – 696 (ELECTED)
David Beaman (Farnham Residents) – 668 (ELECTED)
Natasha Maria Carlotta Fletcher (Green) – 261
Pat Frost (Conservative) – 218
James Pressly (Conservative) – 138
Graham John White (Farnham Residents) – 578 (ELECTED)
Peter Alexander Clark (Farnham Residents) – 818 (ELECTED)
David Alan Dearsley (Conservative) – 425
Christopher Neil Storey (Conservative) – 379
John Anthony Ward (Farnham Residents) – 893 (ELECTED)
Mark Edward Westcott (Independent) – 343
Andrew James Seymour Laughton (Farnham Residents) – 737 (ELECTED)
Anthony Guy Grantly Lewis (Conservative) – 187
Ian Sampson (Conservative) – 211
Richard Peter Steijger (Lib Dems) – 632 (ELECTED)
Godalming Binscombe & Charterhouse (three seats):
Steve Cosser (Conservative) – 984
Ed Holliday (Conservative) – 860
Daniel Ali Husseini (Conservative) – 954
Nick Palmer (Labour) – 1,061 (ELECTED)
Paul Sidney Rivers (Lib Dems) – 1,377 (ELECTED)
Stephen Edward Dalton Williams (Green) – 1,280 (ELECTED)
Godalming Central & Ockford:
Andrew John Campbell Bolton (Conservative) – 374
Paul David Follows (Lib Dems) – 897 (ELECTED)
Daren Howell (Conservative) – 297
Victoria Claire Kiehl (Lib Dems) – 839 (ELECTED)
Godalming Farncombe & Catteshall:
Janet Anne Crowe (Labour) – 718 (ELECTED)
Penny Rivers (Lib Dems) – 1,074 (ELECTED)
Robert Wells (Conservative) – 327
Nick Williams (Conservative) – 473
Adam James Lloyd Clark (Independent) – 310
Adam William Duce (Lib Dems) – 899 (ELECTED)
Margaret Anne Gray (Conservative) – 788
Peter James Martin (Conservative) – 900 (ELECTED)
Clare Louise Weightman (Green) – 871
Haslemere East (three seats):
Zoe Alice Barker-Lomax (Conservative) – 1,030 (ELECTED)
Graham Louis Betts (Conservative) – 938
Shirley Lewis (Labour) – 327
Claire Louise Matthes (Green) – 905
Stephen Nigel Mulliner (Conservative) – 976
Peter John Nicholson (Lib Dems) – 1,169 (ELECTED)
Terry Weldon (Lib Dems) – 1,122 (ELECTED)
Tom Bridge (Conservative) – 257
Stephen Peter Fry (Conservative) – 293
Jacqueline Rosemary Keen (Lib Dems) – 856 (ELECTED)
John Edward Robini (Lib Dems) – 761 (ELECTED)
Toby Luke Westcott-White (Labour) – 183
Malcolm Carter (Conservative) – 653
Jerome Michael Francis Davidson (Lib Dems) – 801 (ELECTED)
Ged Hall (Conservative) – 559
Julian Hewitt Spence (Lib Dems) – 745 (ELECTED)
David John Munro (Independent) – 997 (ELECTED)
Nabeel Nasir (Conservative) – 368
Susan Mary Ryland (Green) – 601
James Staunton (Conservative) – 605 (ELECTED)
Witley & Milford (three seats):
Mark Andrew Bray-Parry (Green) – 946
Maxine Beatrice Gale (Independent) – 1,336 (ELECTED)
Gary Hudson (Conservative) – 1,057
Andrew Duncan Law (Lib Dems) – 1,064 (ELECTED)
Trevor James Sadler (Conservative) – 892
Phoebe Sullivan (Conservative) – 1,058 (ELECTED)