Charles III was proclaimed Great Britain's "lawful and rightful liege lord" in The Square, Petersfield, on Sunday – a week after East Hampshire District Council attracted criticism for holding its proclamation in private.
The honour of reading the proclamation – a centuries-old tradition publicly confirming the ascension of a new monarch – was given to former First Sea Lord and officer on The Royal Yacht Britannia,  Admiral Sir Philip Jones, in a short ceremony organised by Petersfield Town Council.
A large crowd gathered in The Square for the historic occasion, coming exactly a week after most other cities, towns and villages across the UK held public proclamation events after the death of Her Majesty the Queen and the accession of the new King was confirmed.
Petersfield residents were initially denied such an occasion after Petersfield Town Council deferred the proclamation to its "principal authority" East Hampshire District Council, which then opted to hold its proclamation in private.
But after widespread criticism, the town council reversed its decision and organised a public proclamation in The Square on Sunday.
Cllr Peter Clist, Petersfield town mayor said: "We became aware on Thursday morning, September 15, from a note from the Department of Levelling up Housing and Communities, that there was still the opportunity to hold a vigil and proclamation in public.
"However, it had to happen at 8pm on Sunday, September 18.  Despite the short notice, we determined to do this in The Square and get the word out to as many residents as possible.  The Post, Shine Radio and social media were very helpful here and the turnout was far larger than we expected."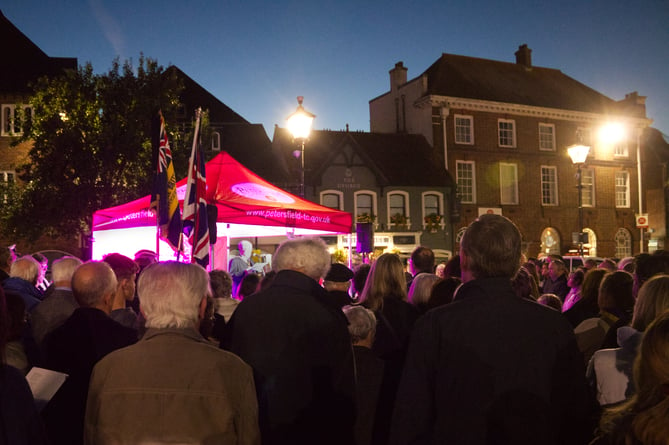 A huge crowd turned out to watch Petersfield's belated public proclamation of King Charles III on Sunday
(Shine Radio Petersfield)
The proclamation began at around 7.50pm immediately after a Compline service at St Peter's Parish Church.
The congregation was welcomed to The Square by the mayor, who then led a minute's silence in memory of the Queen at 8pm as part of the National Moment of Reflection.
This was followed by the proclamation read by Admiral Sir Philip Jones, who said he was "honoured" to represent the Lord Lieutenant at "this very special event".
He added: "Her Majesty will be deeply missed. We acknowledge and are grateful of Her Majesty's influence on so many aspects of our lives and for the selfless example she gave of duty and service which is for each one of us to follow."
All present exclaimed 'God Save the King' right on cue to round off the proclamation, followed by a rousing rendition of both verses of the national anthem accompanied by trumpet – the first time God Save the King had been sung in The Square for more than 70 years – and a closing blessing by Rev Will Hughes
"Thank you for listening and organising tonight's event," responded one Facebook user on the town council's page.
"A proud and reflective moment for the town."