A PETERSFIELD veteran has received an overdue medal for his part in Britain's atomic bomb programme.
A wait of 65 years ended when Kenneth Roberts got his hands on a Nuclear Test Medal.
But the arrival was bittersweet for the 91-year-old and his wife, Sylvia, as they are disappointed about the medal's lowkey roll-out.
He was hoping for the King to make the presentation, but only a few will get the honour with a small ceremony planned to mark its release.
"I've got my medal as it came through the post a couple of weeks ago but we're a bit disappointed," said Mr Roberts.
"The way it's been delivered has been so low-key and from what we've heard no-one of any importance is going to get their medal from the King. My wife has actually sent an email to Damian Hinds saying how disappointed she is."
The release of a medal to commemorate the work of British armed forces, scientists and employees in the test areas is undeniably good news given the wait.
Pressure group Labrats International, which has long campaigned for its introduction, claims a mass hand-out wouldn't be possible.
Their spokesman said: "We wanted an initial ceremony of a few veterans who would receive the medal from the King.
"Very few are able to travel to London, so it would only be around 50. This would then allow us to show the world the service these veterans did for the country was worthy."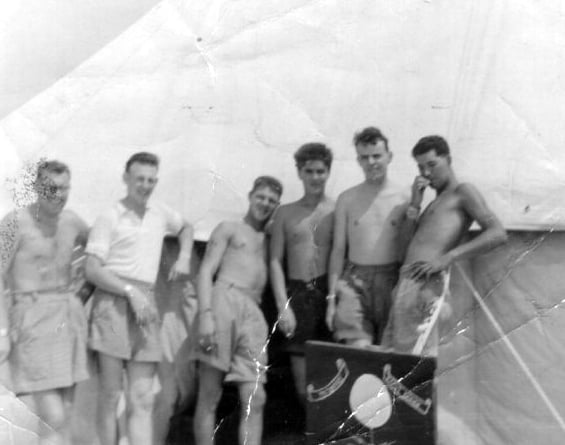 Tony Cooke was part of this group on Christmas Island
(Tony Cooke)
The Post's recent front page story about Mr Roberts and his wait for a Nuclear Test Medal prompted a flurry of emails from fellow veterans and their relatives.
It seems the pensioner from Bramble Road isn't the town's sole survivor of the Christmas Island tests in 1958 as two further veterans were on the archipelago at the time.
Tony Cooke was a meteorologist on the islands and Diana Dimmock's father, 93-year-old David Stevenson, might have known Kenneth as he was also part of the same Royal Engineers regiment based on the island at the same time.
Greg Bertelli also got in touch as his grandfather, Edward Allan Farrar of Heath Road East, was an RAF pilot who often recalled his stories of atomic tests in Australia.