With Farnham Carnival 2022 set to return this Saturday, June 25, everything is firmly in place for another fun-packed time for all the family.
So, after an enforced absence of two years, what can you expect?
Carnival chairman Graham Noakes says: "The combination of Gostrey Meadow Fayre and Town Parade has been around for more than half a century.
"As a result, we have a tried-and-tested formula which we know will create a great atmosphere for both the young and young-at-heart of all ages.
"At the same time, even though the last carnival was back in 2019, it's still essential to keep it fresh and so we can promise some innovative new ideas to keep everyone occupied and entertained throughout the day."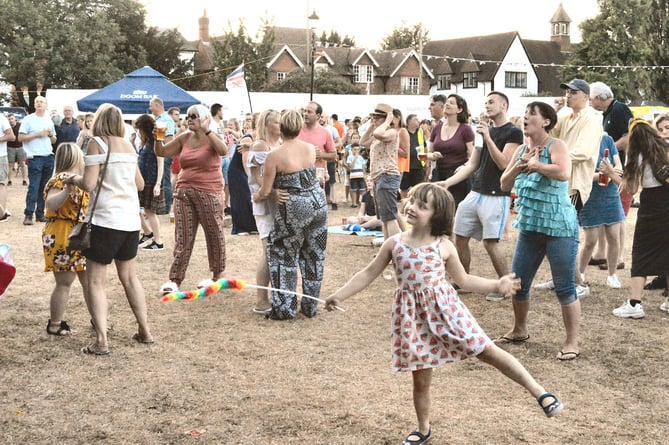 The Farnham Carnival fayre in Gostrey Meadow
(Farnham Carnival)
The Gostrey Meadow Fayre – this year sponsored by Vale Furnishers – will be opened at 2pm by the town mayor, Councillor Alan Earwaker.
After an opening set by the Missy Nelson Band, there will be live music by a terrific line-up of other local bands, including Jungle Brew, Rattlin Catflaps, Rough Mix and Brobed Stills.
"The music is guaranteed to keep everyone on their toes and dancing from the early afternoon right through until 9pm," says Graham – "as long as you've got the stamina!"
The fayre includes a wide variety of stalls and food outlets, as well as a beer tent, gin and prosecco bars.
A Children's Corner will provide funfair attractions, games and entertainment including Mr Magic's ever-popular Punch & Judy Show and, for the first time, Mr Muddle with his 'muddlesome tricks and magical mayhem'.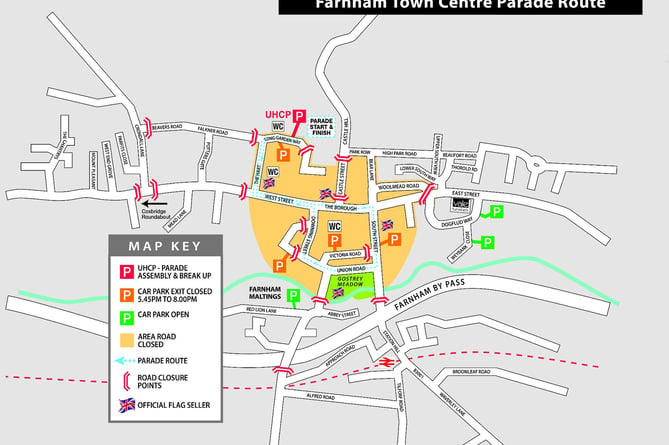 Farnham Carnival 2022 parade route
(Farnham Carnival)
The Carnival Parade, which will start at the Upper Hart Car Park at 6pm, will then wend its way around the town centre for more than an hour.
Sponsored by Marshels Painting and Refurbishment Contractors, the parade will, as ever, be watched by thousands of excited spectators and this year's royal theme offers a real opportunity for entrants' colourful and noisy imaginations.
Parade chairman Chris Wilson said: "If you are coming to watch the parade, please bring lots of loose change with you, as all the money collected in buckets on the way round – typically several thousands of pounds – will go to the schools and local charities taking part.
"However, keeping up with the times, this year for the first time there will also be every opportunity for you to donate electronically!"
The event is managed jointly by The Hedgehogs and Lions Club of Farnham, who are hugely grateful for the help provided by many other clubs and individuals.
The event also depends on the invaluable support of its sponsors and supporters.
In addition to this year's principal sponsors, Vale Furnishers and Marshels Painting and Refurbishment Contractors, gold sponsors include Farnham Estates and Farnham Institute Charity.
Silver sponsors include BakerLaw, BBS, Crest Nicholson, Elphicks, Farnborough Airport, Farnham Chamber of Commerce, Farnham Estates, Farnham Town Council, Squires Garden Centres, Surrey County Council, Tindle Newspapers, Weyfest and Wise & Co, joined this year for the first time by A&D Car Care Farnham, Biffa, the Botanist, Highlight Tanning & Beauty and The Lost Boy.
Brochures detailing the day's events can be picked up in advance from the Farnham Herald office, the town council office, the library and Oxfam Books & Music.
On the day, they will also be available around the town and at the entrances to Gostrey Meadow.
Graham added: "Carnival remains one of the jewels in Farnham's own crown, which makes it even more appropriate to be celebrating our Queen's Platinum Jubilee in this way.
"So come along on the Saturday and enjoy a right royal party!"