Haslemere Border runners keep busy throughout red-hot weather
Sunday 31st July 2022 4:00 pm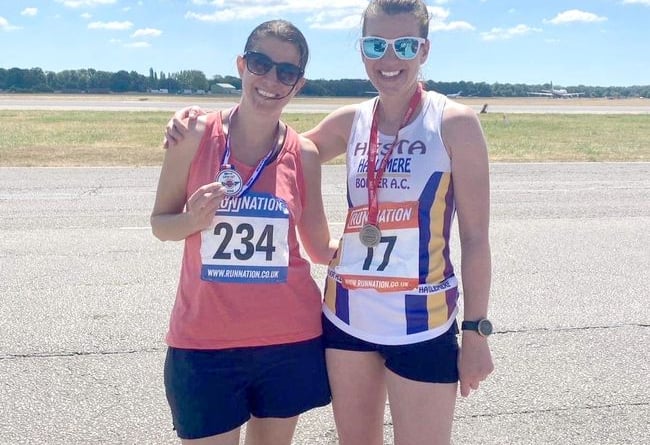 Running buddies Gemma Reeder and Hesta Gilham at Dunsfold
(Tindle )
Subscribe newsletter
Subscribe to our email and get updates right in your inbox.
The start of a new month saw Haslemere Borders runners get off to a flying start.
First up was a 250th parkrun celebration for Karen Sinclair – and what better place to reach this achievement then Alice Holt parkrun.
Karen completed her first parkrun in January 2011, but it was not until 2017 when parkruns became a regular start to her weekend.
Since then Karen has travelled throughout the country and abroad, including Helsinki, Copenhagen, Krakov and Belfast, and has completed many parkrun challenges and has achieved a total of 19 awards, including the 'all- weather runner', 'stopwatch bingo', 25 volunteer and is well on her way to completing the 'Alphabeteer' challenge with only three more alphabet letters left.
Well done Karen, a tremendous achievement!
On Sunday, July 2, the ever-popular Salomon Serpent Trail Race welcomed back more than 1,300 runners to the South Downs National Park to take part in the series of race distances ranging from 100k down to 10k.
The skies were blue and the sun was out with a cool breeze, perfect conditions for a race which crosses the counties of Surrey and Sussex, before finishing in Hampshire.
The first race of the day was the 100k which started just off the High Street in Haslemere and finished at the rugby club in Petersfield.
The Serpent – named for the way it snakes its way through the glades, open fields, trails and hills of the Wealden Greensands Way – gives runners an opportunity to not only challenge themselves but to take in some of the prettiest scenery in the region.
At 7am, Haslemere Border runner Colin Butfield set off on his intrepid journey, seen off by both Steph Moss and Lauren Blatherwick who were marshalling at the start.
Not long after, at 8am, Dave Jarrett, Dean Kellaway and Tom Bampton were setting off from Petworth for the beginning of their 50k, which joined up with the 100k route all heading towards Petersfield.
The last two to set off – and by no means least – were Sebastian Linke and Louise Bampton at midday, who were running the 20k race from Midhurst which also finished in Petersfield.
The stupendous six all put in a tremendous effort and even towards the later stages of the race the challenges did not end, as runners were confronted with a series of stiles on extremely tired legs!
They were also greeted by a familiar face at Nyewood, as fellow runner Philomel Bennett was marshalling and did her best to cheer them through to the end, where they were presented with medals by Steph Moss and Lauren Blatherwick.
Tired and triumphant, Colin Butfield (100k) completed his race in 11:26.29 (17th overall), Dave Jarrett (50k) took 4:19.26 (16th overall), Dean Kellaway (50k) crossed the line in 5:04.09, Tom Bampton's 50k time was 6:03.08, Sebastian Linke (20k) took 1:36.55 and Louise Bampton (20k) clocked 2:03.54.
The second of the Yateley road races took place on Wednesday, July 6, and once again a team of HBAC runners took on the popular race.
And for HBAC coach Sarah Barnett and Sheelagh Jones, this was their first run at the event.
The hot and humid conditions did not stop some great performances.
First home was Will Butcher, followed by Philomel Bennett, Sarah Hurford, Sheelagh Jones, Joshua Dale, Martin Wells, Catriona Wiles, Peter Varnes, Sam Walker, Andrew Gregory, Sarah Barnett and Ann Varnes.
Some notable performances saw Sam Walker take four minutes of her previous-best time and Ann Varnes take 2.5 minutes of her previous best, which Ann credited to Sarah Barnett's excellent pacing.
Steve King had to pull up with the recurrence of a hamstring injury but stayed on to support the team.
While the Yateley road race was taking place, Georgie Kiernay was competing in the annual JP Morgan Corporate challenge at Battersea Park in London.
The 5.6km road race is open to any business and allows works colleagues to take part in a friendly, fun event, although still highly competitive. Georige finished in a time of 27.49.
The following weekend saw soaring temperatures and any race was going to be difficult under such conditions. This did not deter Haslemere Border athletes to take on various races.
First up was Steve Taylor, and he was about to embark on one of his toughest challenges yet – the 'The Race to the Stones'.
The race is part of the Threshold Series and is a 100km route taking runners along the North Wessex Downs, with 3,704ft of elevation along the way.
Steve had trained hard and as a 'sprinter' this was an impressive challenge to tackle.
So on a blistering-hot summer's day, Steve set off at 8am from Uffington White Horse in Lewknor, Oxfordshire, to begin his journey, taking in some iconic landmarks along the way, before reaching the finish line at Avebury Stone Circle.
With a 'never-give-up' determination, Steve persevered throughout to complete his race in a superb time of 16:23.05 – and in his own words: "I was proud to have completed my first 100k."
With high temperatures, the setting of the Dunsfold aerodrome did not offer any shade for runners taking part in the Run Surrey 10k or half marathon.
Although the fast and flat course is usually ideal for a PB, with temperatures soaring and no shade, they were always going to be a big ask.
Running buddies Gemma Reeder and Hesta Gilham took part in the event, with Gemma opting for the 10k and Hesta the half marathon.
Gemma was joined on the 10k start line by Will Butcher.
Will finished in a speedy time of 39.32 and was fourth overall, while Gemma finished in a sub-hour time of 57.18.
Once finished, Gemma stayed on to cheer Hesta as she completed the half marathon in a time of 2:07 – excellent times by all considering the intense heat.
Catriona Wiles had opted to compete in the Dorney Lakes half marathon as part of her marathon training.
For everyone the heat played its part, with Catriona finding the race a lot more gruelling than she had expected and finished in an excellent time of 2:06.17.
Throughout the summer holidays Haslemere Borders AC will continue their training sessions, held at Woolmer Hill Sports Pavilion on Tuesdays and Thursdays.
Anyone interested in going along, wishes to join the club or simply wants to learn more, can get in touch by email at [email protected]
By Ann Varnes and Philomel Bennett
Comments
To leave a comment you need to create an account. |
All comments 0