A coin found in a farmer's field in West Meon could point to the site being used as an encampment for Edward IV's army travelling to France in 1475.
The coin was found by metal detectorists Lee McGowan and Peter Beasley in the field off the A32 near the River Meon.
Lee said experts and enthusiasts have identified the coin as an Irish hammered penny from the time of Edward IV and issued by the Dublin mint.
Peter said: "Taken with other coins of similar date which have previously been found in this area, this new find provides strong evidence of a campsite of Irish mercenaries by the River Meon.
"The site would have been chosen because of its proximity to water. The mercenaries would have camped here en route to Portsmouth, where they were to embark for France to fight in Edward IV's invasion of 1475."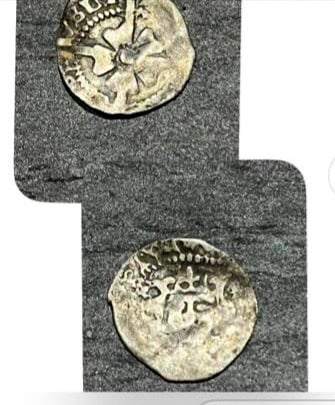 The hammered penny has a bigger rose than similar coin – making it a rare find
(Peter Beasley)
Lee said he didn't know what the coin was when he found it, as it was quite badly encrusted with soil.
"It's very exciting to find something like this," he said.
"Apparently it's particularly rare because it has a bigger rose than similar coins.
"Most of the others are found in Ireland, so this is especially unusual."
As well as stocking up on fresh water, Peter added the mercenaries would have likely traded produce with locals before heading south.
Lee said he and Peter will discuss with the farmer who owns the field what they will do with the coin.
If the coin was dropped by an Irish mercenary on his way to France, he would have been part of a 20,000-strong force, the largest to have left Britain at that time.
The attack was part of King Edward's effort to reclaim his "rightful" crown in France. The French had an even larger force but were ill-prepared and opted to negotiate rather than fight. This led to the Treaty of Picquigny by which Edward agreed to withdraw from France in return for 75,000 gold crowns down and a pension of 50,000 gold crowns a year.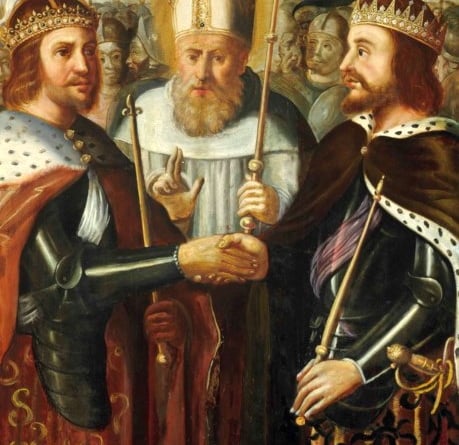 A depiction of the Treaty of Picquigny, an alliance between King Edward IV of England and the King of France
(Creative Commons)
The treaty also included a seven-year truce and free trade between England and France.
Peter said: "This discovery is an important addition to our knowledge of the history of West Meon."
Lee and Peter have been scouring the area for metal objects for more than ten years and have uncovered other historical objects.
"We found a gold ring that some experts say is Roman, but we think it's medieval," Lee said.
They also uncovered the 'Alton hoard' of Roman gold jewellery in the mid-1990s, now part of the British Museum collection.
And it isn't just medieval history they're after – with their current project being the discovery of a Nazi Junkers Ju 88 bomber rumoured to have crashed in a thicket of trees near West Meon.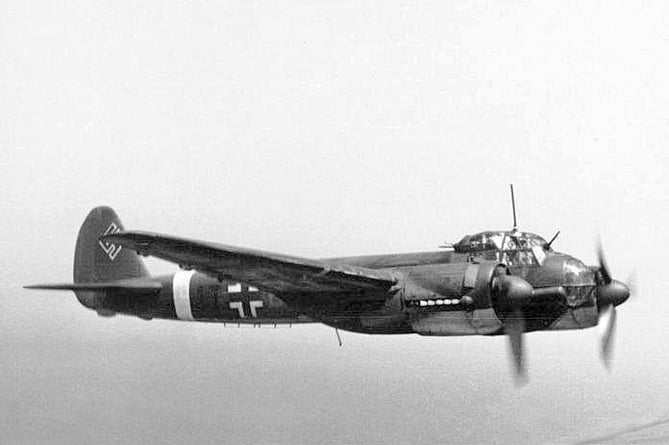 Following their discovery of a coin dating to the Plantagenet era, detectorists Lee McGowan and Peter Beasley are now on the hunt for a Junkers Ju 88 bomber thought to have been downed by RAF Spitfires over West Meon during the Second World War
(Creative Commons)
Peter said: "We recently came across a 22mm cannon shell in a field near the village. These were American-made for the use of RAF Spitfires, and we think a Junkers Ju 88 may have been shot down by Douglas Bader's squadron at Tangmere over West Meon.
"We are now seeking the farmer's permission to search his woods. We'll have to be careful, though, as the Junkers may still have its bombs!"
This search has a personal resonance for Peter too, as although he was little more than a babe in arms during the Second World War, he recalls the time a Nazi parachute mine exploded on his street in Portsmouth.
Miraculously no-one was killed as Peter's family and neighbours were hunkered down safe in the local air raid shelter. But he recalls the mine "wiped out" much of the houses on his street. He also remembers the sight of "sparks flying around", the "crumping" sound of bombs falling elsewhere in Portsmouth and the look of fear on his elder sister's face.