Petersfield's Royal British Legion branch lowered its standard in a final salute to its former president and standard bearer Jeff Williams at St Peter's Church on Monday.
The funeral service was attended by many members of the Petersfield community and further afield, including East Hampshire MP Damian Hinds.
Jeff was well-known in the town for his volunteer work with the British Legion and Poppy Appeal as well as Dementia Friendly Petersfield – helping instigate the East Hampshire Dementia Festival – Petersfield Rugby Club and many others.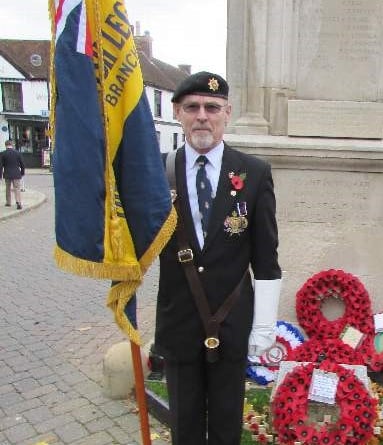 Jeff Williams at Petersfield's Remembrance
(Jeff Williams)
Mr Hinds paid tribute to Jeff's  sense of "service and community".
He added: "At each meeting, Jeff amazed me with total commitment to the cause – and his energy, despite being a man of senior years, and later his deteriorating health.
"Jeff taught me multiple lessons over these years – about service and community and the ability of individuals to change things for the better.
"The most important practical lesson I got from him was about helping people live well with dementia. 
"His legacy manifests in great initiatives like the East Hampshire Dementia Festival, and in changing perceptions of what it means to have a dementia diagnosis."
In a letter to Angie Williams, widow of Jeff Williams, Clive Lewis, Chairman of Petersfield's Royal British Legion, said: "He was President for too short a time, but he had already laid down a varied and invaluable contribution to the Legion as an exceptional Standard Bearer and it was difficult for anyone to step into his shoes.
"The greatest contribution Jeff made, however, was as Jeff the Man, the Comrade, the Friend, the Personality of a genuinely respected human being."