Hogs Back Brewery is offering drinkers a free pint of Three Hogs – its beer specially brewed for football watching – if England reach the World Cup final in December.
The brewer is ready for a bonanza beer giveaway, after it made the same pledge last year and honoured it when England reached the Euros final.
Three Hogs was first brewed for the Euros in 2016 and will be available on draught and in 500ml bottles.
A four per cent ABV golden ale, Three Hogs is brewed with a selection of English malts and hops including Fuggles grown in the Hogs Back hop garden next to the brewery.
The pump clip and bottle label describe the ale as "a beer of two halves: refreshingly hoppy up front, followed by a balancing bitterness and a hint of sweetness to finish".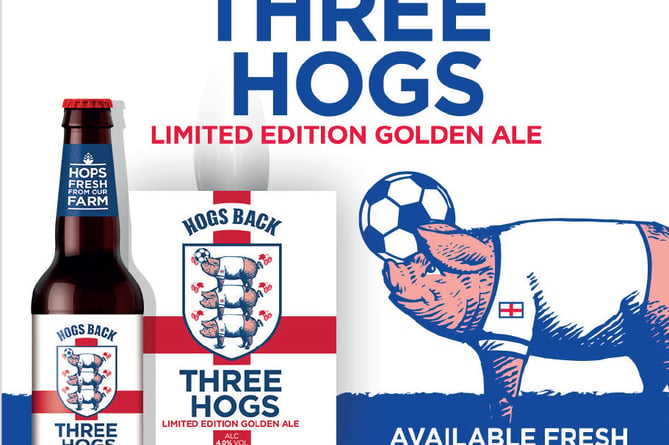 Hogs Back Brewery has brought back its limited edition Three Hogs golden ale for the 2022 Qatar World Cup
(Hogs Back Brewery)
Hogs Back Brewery managing director Rupert Thompson said: "Let's hope that we might finally be raising a glass to a victorious English side on December 18."
Hogs Back will be screening a number of matches in its Brewery Tap, depending on timings, including the England v Wales fixture on November 29.
Guests will be able to enjoy the football accompanied by a range of Hogs Back beers and food including stone-baked pizzas.
Mr Thompson added: "During the Euros, the excitement in the Brewery Tap built to fever pitch, and we were sold out ahead of the final.
"It's a great space for watching sport and we're looking forward to welcoming football fans to enjoy the tournament with us again."
If England reach the final, customers will be able to claim a free pint of Three Hogs – or another Hogs Back beer, depending on availability – by visiting the Brewery Tap between 11am and 2pm on December 18.
Pick up a copy of this week's Herald for your chance to win a Hogs Back & Friends Advent Calendar worth £79.