Olympic stars Mark Foster and Colin Jackson greeted visitors at Waverley's leisure centres on Saturday.
New leisure operator Everyone Active hosted a series of open days to celebrate its first day in charge of Waverley's leisure centres.
And six-time world champion swimmer and five-time Olympian, Mark Foster, and former Olympic silver medal-winning hurdler, Colin Jackson, made appearances and greeted guests at the events that were jam-packed with fun free activities.
Centres in Farnham, Haslemere, Cranleigh and Godalming were a hive of sporting activity as people got involved in everything from gym and swim, group exercise classes, squash, soft play and much more.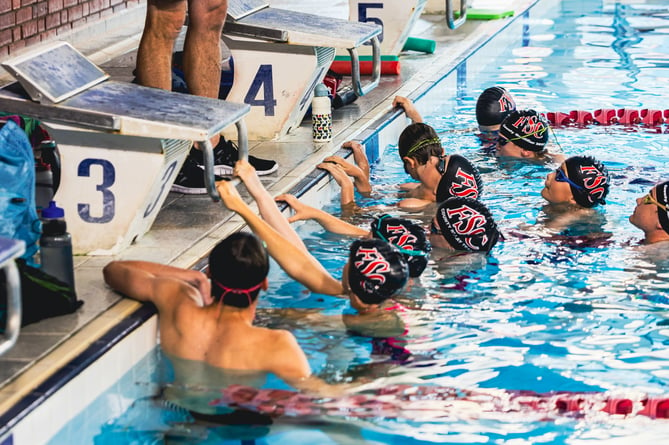 GB Olympic swimmer Mark Foster leads a swimming class at Farnham Leisure Centre
(Everyone Active)
Farnham Leisure Centre saw Mark Foster host swim sessions with the local Farnham Swimming Club and children taking swimming lessons at the centre.
While over at Haslemere Leisure Centre, he tackled gym challenges and met many adoring fans.
Meanwhile, Colin Jackson took on gym challenges against the local Cranleigh Rugby Club at Cranleigh Leisure Centre, as well as meeting and greeting excited customers keen for photos and autographs at Godalming Leisure Centre.
Professional freestyle footballers Ben Nuttall, Steve Gray, Mo Omar and Rebaz Mohammed also wowed onlookers with their freestyling skills.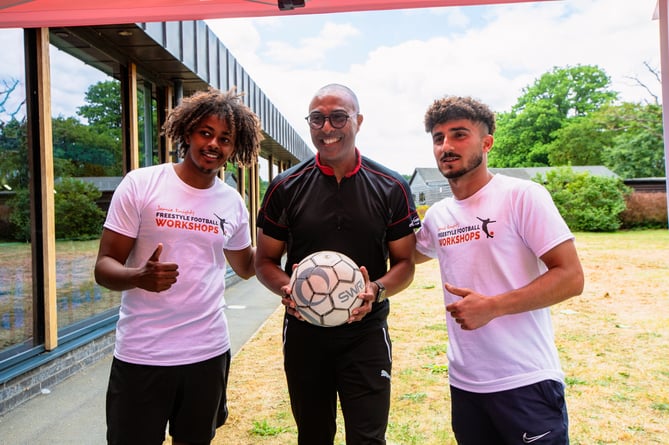 Mo Omar, Colin Jackson and Rebaz Mohammed at a Waverley leisure centre open day
(Everyone Active)
David Love, area contract manager at Everyone Active, said: "We're absolutely thrilled at how many people from the local community took the time to come down to the family fun days across our four new sites in Waverley on Saturday, for an exciting day of sporting fun. It was fantastic to see so many members of the community try out different activities and meet two very inspiring sports stars, who thrive when encouraging others. 
"We hope the open day encourages individuals to come back to the centres and share their experience with others, so we can continue to drive health and wellbeing within the local community." 
Around 40 new members were reported to have registered at Farnham Leisure Centre alone during the open day.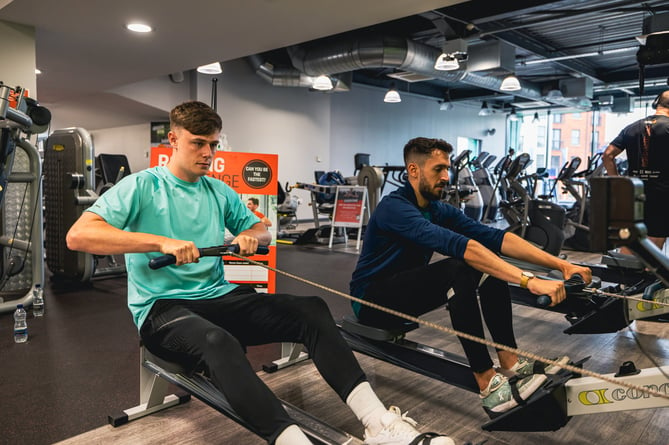 Freestyle footballers Steve Gray and Ben Nuttall try out the gym at a Waverley leisure centre open day
(Everyone Active)
Waverley Borough Council portfolio holder for community services, leisure and equality, diversity and inclusion, Councillor Kika Mirylees, said: "It was a fantastic day for all concerned and I'm delighted that so many people came along, not just to see their sporting heroes but to take a look at what's on offer at our leisure centres and get involved in some fun activities.
"I do hope that those who attended one of the open days will become regular visitors, if they are not already, and make use of the great leisure facilities we offer in the borough."