Kate Powell, Alton's Anna Chaplain, has loved getting to know the older community of Alton. She especially enjoys their colourful stories and attitudes to life. In her column Growing Old Gracefully, Kate shares the profiles of some of these amazing people – and this week finds out more about IAN TAYLOR.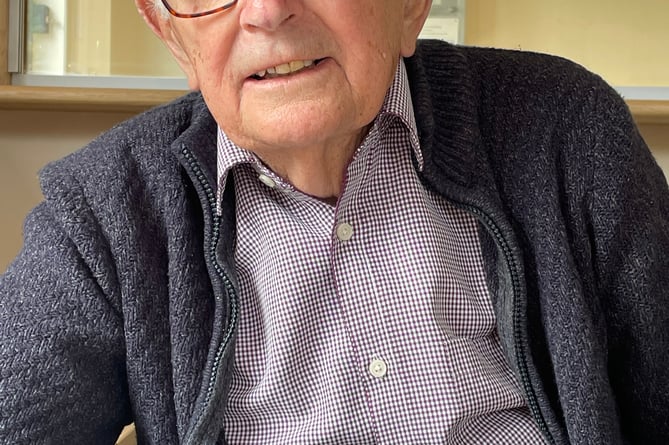 Alton man Ian Taylor was sat behind the goal in which Geoff Hurst scored his famous hat-trick goal to seal the 1966 World Cup for England at Wembley
(Kate Powell)
How old are you and how long have you lived in Alton?
I am 83 and came to Alton in 1989, which seems unbelievable as the time has flown.
What made you choose Alton?
We lived in Romsey, which I still call my spiritual home, but because of a job offer in Guildford, we had to move and chose Alton as it was only half-an-hour away from my new office.
What do you like most about Alton?
I think the location is great. It is close to lovely countryside and not far from beautiful cities such as Winchester and Guildford. 
I really appreciate the community of Alton as people tend to live and work here. 
It is not overrun with tourists and there is something very British about it. 
I also love the fact it is an active market town, as they are becoming more rare these days.
Tell me a little bit about a favourite time in your life?
From a personal point of view, I have lots of favourite times such as my wedding, my adult baptism, the birth of my children and becoming a lay preacher, but the story I have most dined out on is the 1966 World Cup final. I don't suppose many people can say they were standing behind the English net when Geoff Hurst scored the winning goal right at the end of the match.
l was young and single at the time with plenty of spare cash in my pocket so, being a football fan, I purchased a book of tickets to watch a number of qualifying matches. This purchase ensured me a ticket for the final but I never thought England would be playing.
England had never made the World Cup final before and, sadly, we have never made one since but I was there that day and the atmosphere was electric, although in a more moderate way than it would be today. 
I can't remember hearing a single swear word but the joy when England won was so unforgettable I am still recounting it nearly 57 years later.
What are your hopes and dreams for the future?
My wife, Janet, died a few years ago and I am trying to live in a way that honours both our hopes and dreams. Unlike Janet, I am not a naturally sociable person but, in her memory, I have taken the opportunity to dedicate some of my retirement to helping others.
At the end of 2022, I joined the Anna Chaplaincy team in Alton to come alongside other older people wherever they are at. This journey has introduced me to all sorts of people – from the bereaved to those living with dementia – and it is a privilege to get to know them.
I also help lead services in the care homes around Alton and my hope is to make a difference to the lives of just a few people along the way. My dream is to do this for as long as possible to honour Janet's caring spirit. If she were still alive, I know she would love to be part of the Anna Chaplaincy team so I am doing it for her.
For further information on the Anna Chaplaincy, call Kate Powell on 07539 026546.