Oakmoor pupils join Brian Wood on run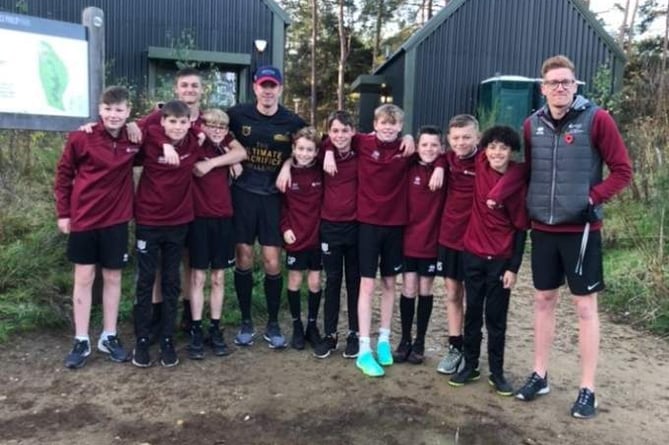 Brian Wood, David Oliver and Oakmoor School pupils get ready to run
()
Subscribe newsletter
Subscribe to our email and get updates right in your inbox.
MULTIPLE marathon runner and Military Cross holder Brian Wood paid tribute to the families of fallen soldiers whose support helped him complete his 635-mile Ultimate Sacrifice challenge.
Brian, from Whitehill, ran a marathon every day for the first 25 days of November – a mile for each soldier killed in Iraq and Afghanistan – and raised £150,000 for military charity Walking With The Wounded.
He said: "The messages I have received from those families have been inspiring and humbling during this experience.
"Even when I have been struggling to walk down the stairs in the morning, there was never a doubt in my mind that I would get out every day and do my bit to remember those 635 lives.
"Each mile represented a fallen individual, and we would pay our respects by reading out their name as we completed the mile."
Brian was interviewed in the Hogmoor Inclosure by Good Morning Britain hosts Susanna Reid and Ben Shepherd as he prepared for the final day of his challenge.
As a former pupil at Mill Chase Academy – now Oakmoor School – Brian invited Oakmoor pupils to join him on the first and last legs.
On day one they did a lap of the Hogmoor Inclosure – just over 1.5 miles – with Brian before he headed off on his own.
Head of PE David Oliver ran alongside the pupils, who included Brian's youngest son Charlie.
Mr Oliver said: "We at Oakmoor are extremely honoured to join Mr Wood and be a part of this challenge and would like to thank him for inviting us along to support.
"This challenge is a great test of strength, courage and mental fortitude. It is our pleasure to support our local community and Oakmoor family in this incredible challenge."
Charlie said: "I'm so proud of my dad and so happy to be a part of his challenge."
On social media, Brian said: "I loved starting the challenge with my son and his PE class."
The last day saw Oakmoor pupils run with Brian again, and this time he was joined by both Charlie and Charlie's brother Bailey, who followed his father into the Army.
Mr Oliver said: "It was incredibly emotional.
"Seeing Mr Wood with his two boys who I've had the pleasure of teaching was a lovely moment and one I'll remember for a long time."