Hasleworks in Haslemere High Street hosted the town's first Great Green Get Together last Saturday – celebrating all the green and sustainable initiatives happening in and around the town.
More than 20 exhibitors came together to share their work, as well as a day-long programme of workshops, talks and presentations from speakers including the National Trust, the Repair Café and the River Wey Trust. 
One of the most popular talks was led by David Elliott of the National Trust and repairer of bikes through the Repair Café. 
David talked passionately to more than 40 people about Haslemere's ecology, especially in and around the River Wey and River Rother. He then shared the story of the reintroduction of beavers in Haslemere, including many informative facts about this fascinating animal.
Helen Bowcock, founder of Hasleworks, judged a school's art competition, asking young people to draw their version of a greener Haslemere. More than 30 young people entered on the day, with the winning entry awarded a guided nature walk with local explorer Jonnie Taylor and runners- up receiving prizes from Oliver's Café and Art Box.
Claire and Gareth Matthes also led people on a guided walk around Swan Barn Farm on the day, sharing information about the area's orchards, as part of their COPSE initiative.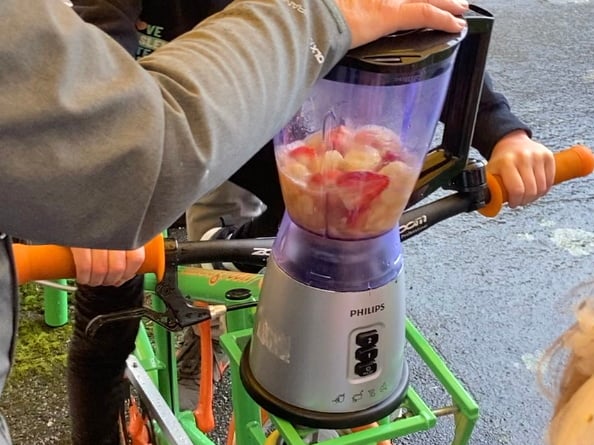 Clara Page rides the smoothie bike at Haslemere's Great Green Get Together
(Love Haslemere Hate Waste)
Visitors were also serenaded by children from St Barts Choir, who sang a range of planet and food-themed songs for everyone to enjoy, and the children then enjoyed a turn on the 'smoothie bike' using pedal power to blend fruits, before drinking their smoothies.
The organisers – councillors Nikki Barton and Claire Matthes, Victoria Page of Love Haslemere Hate Waste and Clive Davidson of Transition Haslemere – were delighted with the turnout on the day, 
Victoria said: "This was a bit of an experiment, bringing together everyone with an interest in sustainable living. 
"We've been blown away by the support we received. 
"The event was brilliant fun and really shone a spotlight on all the incredible work being delivered in and around Haslemere to help our town become a more sustainable place to live, visit and work. 
"We hope this is the first event of many that celebrates the vital work being undertaken by so many local organisations and initiatives."