Extinction Rebellion protesters from across Waverley and East Hampshire took part in a 'Dirty Water' protest at Thames Water headquarters in Reading last week.
XR rebels wearing hazmat suits and respirators poured fake sewage outside the Thames Water HQ and unfurled banners demanding the company 'Cut The Crap'.
They also delivered a letter demanding that Thames Water stop illegally pouring untreated sewage into streams and rivers and cease the payment of all bonuses, dividends and excessive executive wages until they have fixed the problems caused by years of excessive profit taking and underinvestment.
Joining the protest were members of XR Waverley & Borders from Godalming, Farnham, Alton and Haslemere.
Water companies pumped raw sewage into Britain's seas and rivers for more than nine million hours between 2016 and 2021, an increase of 2,553 per cent over five years.
Thames Water, which serves 15 million people, was named as one of the worst performers.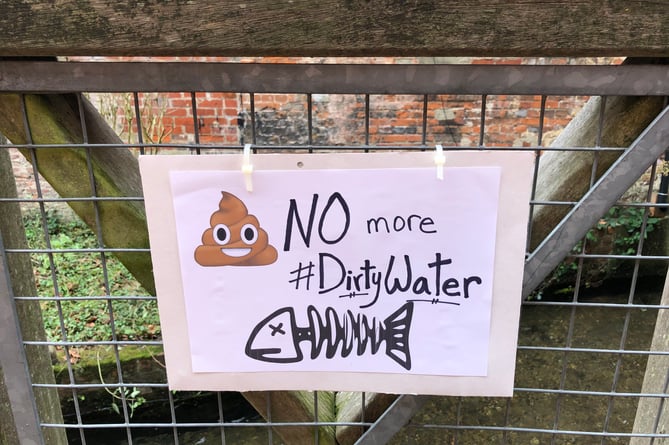 An Extinction Rebellion poster by the River Wey in Alton
(Extinction Rebellion)
Research shows the sewage overspills result from lack of infrastructure investment which leads to environmental deterioration and presents a human health hazard.
According to Chief Medical Officer Chris Whitty, in a joint statement with Ofwat and the Environment Agency: "Nobody wants a child to ingest human faeces".
The statement continued: "The principal public health responsibility for ensuring human faeces and viable human faecal bacteria do not get into waterways people might use recreationally, rest squarely with the water companies and their directors."
Yet XR points out Thames Water boss Sarah Bentley, on £2 million a year, received a £727,000 windfall in 2022, just as the Environment Agency condemned Thames Water over pollution.
According to research by the Guardian, more than 70 per cent of the water industry in England is owned by international investment funds, private equity firms and businesses lodged in tax havens.
Since privatisation these firms have run up net debts of almost £54 billion and paid out dividends of £65.9 billion.
A Thames Water spokesperson said: "We regard all discharges of untreated sewage as unacceptable and will work with the government, Ofwat and the Environment Agency to accelerate work to stop them being necessary and are determined to be transparent. 
"We are absolutely committed to protecting and enhancing our rivers and the communities who love them, and we want to make these discharges of diluted sewage unnecessary as quickly as possible.
"Of course, what matters most is stopping the need for the discharges. Our shareholders have not taken a dividend in over five years and last year approved a business plan that sees us spending an additional £2billion beyond what our customers are funding so we can improve outcomes for customers, leakage and river health.  This will allow us to deliver our commitment to a 50% reduction in the total annual duration of discharges across London and the Thames Valley by 2030, and within that an 80% reduction in sensitive catchments. 
"We have started the £100 million upgrade of our Mogden sewage treatment works in London, and are currently increasing sewage treatment capacity at a number of our other sewage works across the Thames Valley, including Witney, Chesham and Fairford to be completed by 2025. 
"We have a long way to go – and we certainly can't do it on our own – but the ambition is clear."
Join members of XR Waverley & Borders on a Farnham River Wey Walk on Saturday, March 25, setting off at 11am from the bandstand in Gostrey Meadow. The walk, between Bishop's Meadow and Borelli Walk, is to create awareness around river pollution and inspire the restoration of clean waters. Water testing to check the health of the river will take place.
Extinction Rebellion's letter to Thames Water
Dear Board members and directors of Thames Water,
We are visiting you today to demand that you take urgent action to stop polluting our rivers and seas. Your illegal dumping of raw sewage is harming people and wildlife and must stop. 
Despite posting huge profits, paying multi-million pound bonuses and dividends you are failing to meet the most basic standards and operate within the law.  
As published by the Department of Health and Social Care in June 2022 "Use of our rivers for recreation and exercise is something to celebrate and encourage. Children have always played in waterways and always will, irrespective of what notices are put up next to them. People of all ages use freshwater waterways such as rivers for recreation including swimming and various forms of boating." Your current operating practices pose a risk to all those using our rivers and seas, which are deeply unpleasant and downright dangerous. 
We demand that you take responsibility for your company's impacts, that you cease the payment of all bonuses, dividends and excessive executive wages until you have stopped illegally pouring untreated sewage into our waterways and are at least operating within the parameters of the law. 
 As members of the Board, you are the individuals selected to: "balance the needs of customers, the environment, shareholders, and other stakeholders." So long as raw sewage is dumped in the environment, you are failing to do this.
 You are not meeting the needs of customers; you are consistently raising bills while failing to protect the environment that your customers, and all life, rely upon.
You are not meeting the needs of the environment; you are polluting it with human faeces, sanitary and sexual health products, micro plastics and forever chemicals.
Rivers are on the frontline of our climate and ecological crises. To avert the worst impacts of these crises, and to enable nature to adapt, we need to stop sewage dumping now and the responsibility for this sits with you.
We await your announcement.
Yours sincerely,
Extinction Rebellion