The father of naturalism Gilbert White wrote in his book The Natural History and Antiquities Of Selbourne about witnessing the 'Blessing Of The Bower' at Waldon Lodge.
Writing in 1789, he stated it was "of very remote antiquity".
The exact location of Waldon Lodge has been lost to history, although recent mentions of it on a 1759 map confirms the theory that it was in the general area of Walldown, near Whitehill.
The Woolmer Forest Heritage Society and Deadwater Valley trust have been running the annual Blessing Of The Bower event on the top of the Walldown Ancient Scheduled Monument since 2010 with construction help provided by Year 3 pupils from Woodlea School.
The Blessing Of The Bower traditionally took place on St Barnabas Day, or mid-summer, hence the refrain of Barnaby Bright, Barnaby Bright, Longest Day and Shortest Night being used during the blessing but after the adoption of the Gregorian Calendar St Barnabas Day fell on June 11.  
While Gilbert White witnessed a shelter, or bower, being constructed from oak with "posts and brushwood" the children used a slightly easier building material in easily available ferns.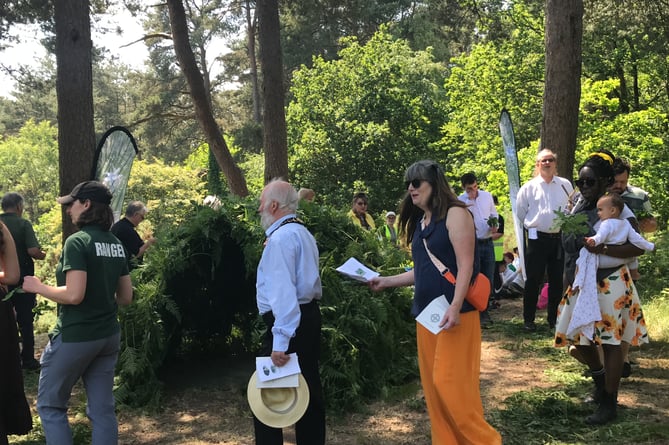 The Blessing of the Bower takes place annually at the Walldown Ancient Scheduled Monument near Whitehill
(Deadwater Valley Trust)
The children spent the morning cutting the fern in teams with the rangers, with much delight being had in building the highest pile (and some cheating from a senior ranger!) before using these to cover the bower frame which had been pre-secured by the Deadwater Valley Trust Ranger team.
In the afternoon the children returned to join members of The Woolmer Forest Heritage Society, Cllr Anthony Williams of East Hampshire District Council,  Cllr Andy Tree of Hampshire County Council, deputy town mayor James Fryer and Cllr Bisi Kennard representing Whitehill Town Council as well as members of the public to witness the blessing.
Matthew Shaw, of the Phoenix Players, read the extract from Gilbert White's recount of the event and this was followed by the Blessing of The Bower itself, which was conducted this year by the Rev AlisonWaterhouse of St Peter's Church Petersfield, and the procession around the bower, led by local historian and author Adam Carew.
Once the hard work was out of the way, everyone was treated to tea and cakes with a fantastic view over the Hampshire countryside.