Daron Wyatt died in the arms of his husband Andy aged 49 "out of the blue" in 2021.
One year later, Andy installed a bench in Goldaming with a Batman symbol and the initials DW carved into it that had many locals questioning its unknown meaning.
Now, Andy speaks out about the touching story behind the bench and his intention to cast a permanent legacy for the Batman to his Robin.
Andy said: "I wanted to make a big symbol to him. 
"I know that in summer when the sun shines through that cut back, it will reflect on the water, so that's my way of giving him the bat signal.
"I can't put it in the sky, but I can put it in the river."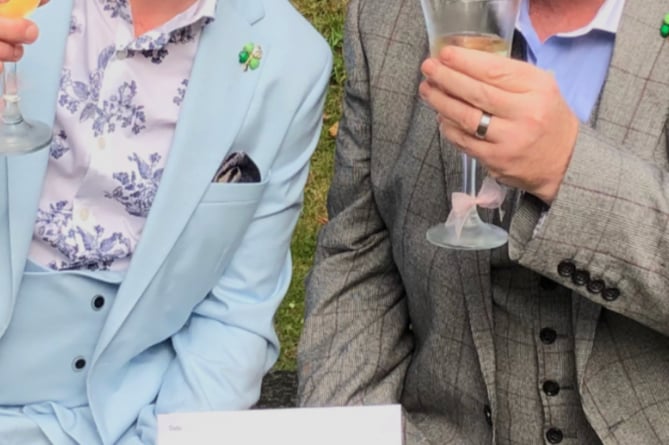 Daron and Andy Wyatt. Andy is continuing his husband's legacy with a bench in Godalming with the Batman symbol engraved on the back
(Andy Wyatt)
The bench overlooks the River Wey and was installed in the park in November 2022, almost exactly a year after Daron's unexpected death on November 26, 2021, from a medical complication we have chosen not to name.
Though it's been emotional for him, Andy says a recent stir on social media about the bench, and people wanting to know the meaning behind it, has also been good and that he wants people to use the bench to continue his husband's legacy.
He said Daron stands out as "one of the most amazing people" he has ever met in his life and that he was an "amazing mentor and friend" with "blue eyes as deep as any ocean in the world".
Though logistically he says he couldn't put the bat signal in the sky on the night of Daron's wake, he wanted to find a way to do something for the "big, big Batman fan".
The pair loved Godalming, having moved there eight years ago, and got married on the bandstand in the Phillips Memorial Park, where the bench can now be found.
"
He died at home in my arms and I'm very lucky because a lot of people don't get that chance
Andy Wyatt
Daron had been visiting the town since he was little to see his family there, Andy said he loved the community, loved living there and loved his family that are there.
He added: "We came here to build a life together, obviously he left us a lot sooner than anticipated. 
"That's why I gifted the bench to the town because I wanted, and he would want, people to be able to use it."
Andy said people have been sending him photos of them at the bench, and when passing by he's seen others there eating their lunch, sitting with their children and having a rest while out jogging.
He said that's exactly what he wanted the bench to be used for.
"Daz was a very big advocate for legacy," he said. "Legacy for families, legacies for towns, legacies for individuals. 
"So very much now my world consists of trying to drive his legacy."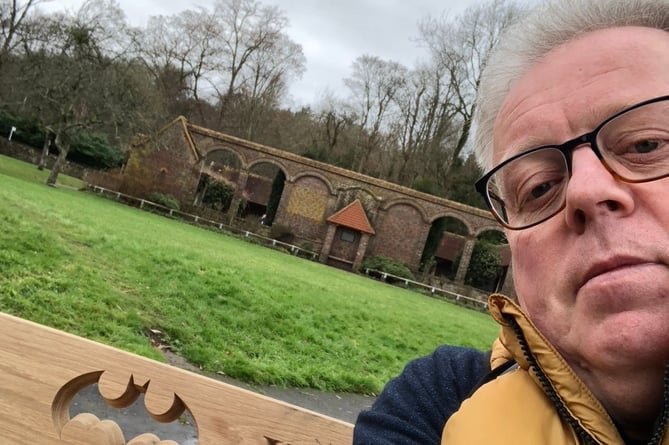 Andy Wyatt on the Batman bench he has had put in in Godalming to continue the legacy of his husband Daron Wyatt
(Andy Wyatt)
While the pair were always compared to Batman and Robin, with friends saying Daron was "the brains" of the outfit and Andy "the muscle", Andy says accomplishing the task of getting the bench in place within a year of his death was "a big thing" for him.
"I have to be the brains of the outfit, and the best way I know how to do that is how he taught me," he said.
Despite the loss, Andy says he's "a lot luckier than a lot of people", having had 13 years together with Daron.
The 53-year-old added: "It sounds weird to say but a lot of people want that kind of passing. I got that.
"It's even more important that I remember that and take it and I am filled with that idea of legacy constantly."
He wants people in the town to take on that message too, saying that Daron was "in all essence" always about "family, friends, community and passing on".
"It is looking to your right and looking to your left, to the people in your life, and remembering that they're there in that moment," he explained.
"Because our moment just went, with a snap of a finger.
"It wasn't something that was expected, it was really just right out of the blue.
"But he died at home in my arms and I'm very lucky because a lot of people don't get that chance."