Farnham Swimability is so much more than a swimming club
Tuesday 18th January 2022 7:00 am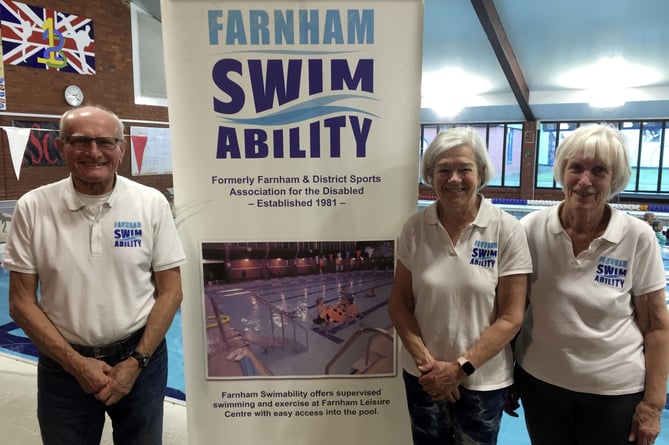 Willing and regular volunteers Ted Bonner, Jenny Taylor and Edna Crawley
Subscribe newsletter
Subscribe to our email and get updates right in your inbox.
IF you have – or you know someone who has – a disability, or has had a stroke or has arthritis, or just needs rehab, then swimming sessions with the Swimability club might be just the answer.
The Farnham and District Sports Association for the Disabled were established when the Farnham Sports Centre opened in 1981.
They are a registered charity whose aim was to offer access and support to sport for the disabled of all ages and experience levels. They offered multi sports including the most popular activities, swimming and short-mat bowls.
However, in the early part of the new millennium, the club agreed to focus on their primary activity, swimming, and they were renamed Farnham Swimability.
The club today are a bit of a family affair, chaired by Alan Taylor alongside his wife Jenny, who is the secretary, and both of them have given a huge amount of their time and energy to helping others and making a difference in their local community.
The facilities at Farnham Leisure Centre are equipped with easy-access steps and a hoist and there are a number of willing helpers and a qualified physiotherapist on hand to lend support, as well as a leisure centre lifeguard.
That's in addition to the dedicated disabled changing facilities provided by Waverley Borough Council and Places Leisure, the leisure centre operators.
The fees to take part are kept very low to ensure affordability isn't a barrier to participation.
Alan Taylor said: "There are many sports clubs in the Farnham area who have a welcoming and inclusive attitude – but there are a few clubs such as ourselves who provide a more targeted service and we would be pleased to hear from anyone who feels our club activity might be able to help them.
"Carers and family members are welcome, too, as we are a friendly group who promote the combined therapeutic benefits of swimming and socialising."
For some people, a disability – or having a stroke or suffering from arthritis, or recovery from an injury or ailment – can be a challenging and often worrying situation. But the club maintain the benefits of exercise through swimming can be significant.
Alan said: "It's often helpful to get out and about and meet people who understand your situation and where you can share experiences with others.
"And combining that with some physical activity with helpful guidance from a physio can give individuals of all ages improved self-esteem, fitness levels and a new sense of purpose."
Alan highlighted the good work done by his predecessors and all the crucial volunteers who have enabled the club to operate. He also mentioned the positive support the club receive from the leisure centre management and staff as well as the encouragement given to the club by the Farnham Sports Council.
He added: "To make it work, this has to be a partnership between the club and the community.
"We welcome new members and, of course, more volunteers – they're crucial as without them we couldn't operate at all.
"I thank all those people, past and present, who've given their time and their passion to help run the club.
"There are just too many to name but they know who they are and over the 30 or so years we've provided this community service, there will have been hundreds of swimmers who have good cause to be grateful to them."
Comments
To leave a comment you need to create an account. |
All comments 0