The Chancellor Jeremy Hunt will be taking part in the Farnham Charity Bike Ride on Sunday, July 2 as part of the Royal Surrey Charity team.
The South West Surrey MP will join more than 800 cyclists of all ages and abilities taking part in this year's bike ride, which this year celebrates its 15th anniversary.
Organised jointly by Farnham Round Table and St Andrew's Infant School PTA, the ride will feature four circular routes spanning 16, 25, 50, and 75 miles, taking riders through the picturesque Surrey and Hampshire countryside.
The Royal Surrey Charity is this year's official charity partner, and will be entering a team and running a stall in Castle Street in support of its Cancer and Surgical Innovation Centre campaign.
Mr Hunt said: "This annual event, now in its 15th year, attracts hundreds of cycling enthusiasts and fundraisers who ride a variety of distances through the town and area.
"Please show your support and visit the Friends of Royal Surrey Cancer & Surgical Innovation Campaign on their stand in Castle Street and donate on the day.
"I have also set up a Just Giving Page where you can sponsor me to raise funds for this amazing cause which will allow the treatment of an additional 7,000 patients a year at our amazing hospital."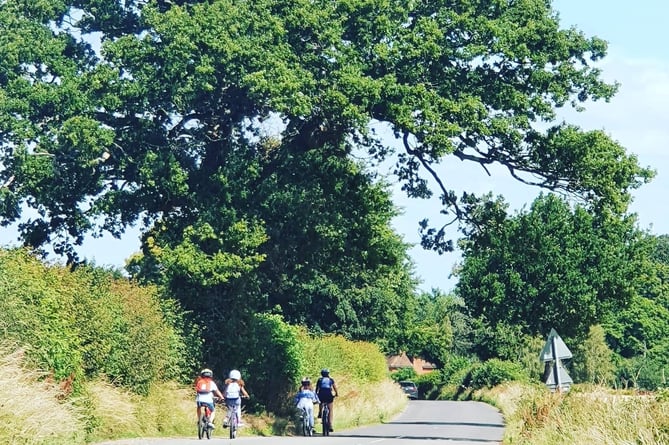 What could be more wholesome than a morning cycling through the area's stunning countryside for local good causes? Grab your helmets and register now for the Farnham Charity Bike Ride online at https://farnhamroundtable.org.uk/events/farnham-charity-bike-ride/
(Farnham Charity Bike Ride)
The Farnham Charity Bike Ride is a family-friendly event, with cheaper advance tickets priced from £26 to £36 for all those aged over-16. Children aged under-16 go free when accompanied by a fee-paying adult. All finishers will receive a medal.
Riders can sign up on the day, from 7am in Castle Street, with on-the-day tickets priced at £30 to £40. Riders set off at 30 minute intervals from 8am, starting with the 75-mile route.
Safety is paramount, and organisers will be enforcing a strict 'no helmet, no ride' policy. Mechanical and emergency support will be available at the start/finish area and along the route, which will be closely marshalled to ensure riders stay on track.
Refreshment points will also be available along the route, providing free drinks and snacks to keep riders fuelled throughout the day.
Robin Legge, head of fundraising for the Royal Surrey Charity, said: "We are thrilled to have been chosen as a charity partner for Farnham Bike Ride and to be a part of this fantastic community event. We're excited to enter a team into the challenge, to help raise vital funds for our Cancer and Surgical Innovation Campaign. There are charity places available so please get in touch if you want to sign up and help transform healthcare."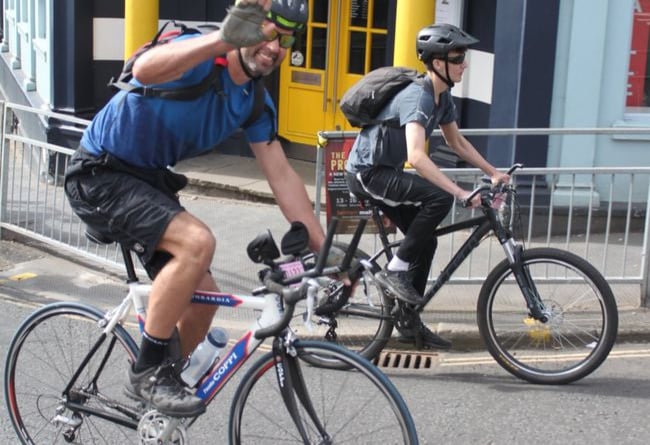 All smiles at the Farnham Charity Bike Ride
(Tindle)
The Farnham Charity Bike Ride is also delighted to have the support of gold sponsors EchoMed, which offers rapid access to cardiac experts and state-of-the-art diagnostics from its clinic in Carlton Yard, Farnham, as well as silver sponsors Crest Nicholson, and bronze sponsors the Farnham Herald.
Dr Edd Maclean, of EchoMed, said: "EchoMed are delighted to be sponsoring the Farnham Charity Bike Ride. Farnham Round Table do fantastic work, and we welcome the opportunity to support one of their many charitable causes. Regular exercise is essential for maximising your cardiovascular health, and whilst we haven't decided which of our heart specialists will be taking on Butser Hill, we are all united in our support of this great event."
A spokesperson for Crest Nicholson, the developer of Farnham's soon-to-open Brightwells Yard development, said: "We recognise the crucial role charities undertake in the local community and are delighted to sponsor the Farnham Charity Bike Ride this year alongside our wider charitable donations. The bike ride is a great opportunity to help raise money for charity and to get some physical activity in for a good cause too. Good luck to all involved!"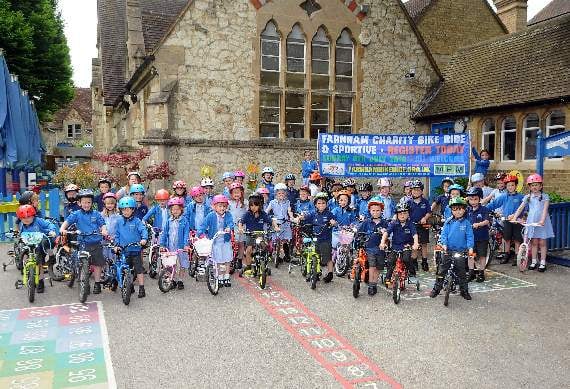 Farnham Charity Bike Ride proceeds are split evenly between St Andrew's School and Farnham Round Table
The Farnham Charity Bike Ride typically attracts more than 800 riders, ranging from young children in bucket seats on the 16-mile route to club cyclists challenging themselves on the 75-mile sportive. 
It raises thousands of pounds every year for St Andrew's Infant School PTA and the good causes supported by Farnham Round Table, while participants are also encouraged to raise funds for the charities they care about.
Nigel Davison, chairman of Farnham Round Table said: "We are thrilled to announce that this year's Farnham Charity Bike Ride will be supporting the Royal Surrey Charity's new cancer centre and surgical innovation centre. We would also like to extend our sincere thanks to Crest Nicholson and the Farnham Herald for their generous support as sponsors of this year's event. With their help, we can make this year's ride the best one yet!"