Dylan's Ice Cream of Haslemere and Bordon is one of two runners-up in the UK's first ever Ice Cream Parlour of the Year competition.
It means Dylan's is officially one of the best ice cream parlours in the country. 
The competition was sponsored Antonelli.co.uk. and was organised by the Ice Cream Alliance (ICA), the industry's trade association.
Dylan's founder and owner Ben Govier said: "I'm amazingly proud of what our staff have created. It is a great showcase for what we do in our town.
"Care is taken in all aspects of the parlour, from making the ice cream from scratch, not buying in flavourings but using the fruit that is available locally as the season dictates, and making all the inclusions ourselves. 
"We take a lot of trouble to make sure the parlour fits in with the local community with the events we run and the flavours we create to support these."
In 2008 Ben started making ice cream on a local farm and selling it from an ice cream van he bought off eBay. In 2014 he opened the ice cream parlour in Haslemere in an old shoe shop, followed by a second parlour at The Shed in Bordon in May 2021.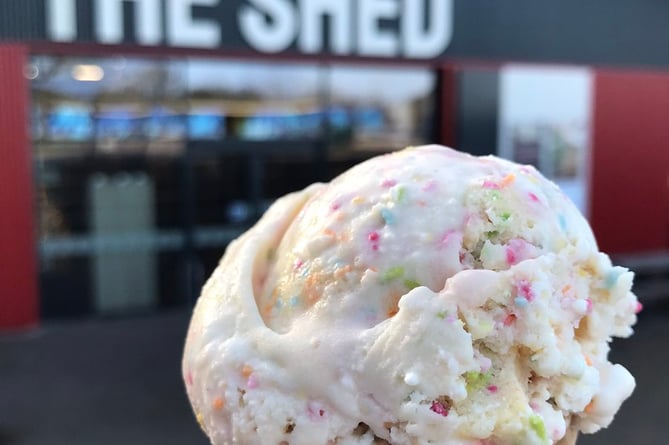 Dylan's opened its second ice cream parlour at The Shed in Bordon in May 2021
(Dylan's Ice Cream)
Dylan's Ice Cream is at 1 Junction Place in Haslemere and The Shed, Sergeants Yard, Bordon, GU35 0DJ (www.dylansicecream.co.uk).
Entrants were judged on their premises, machinery, equipment and utensils, working practices, hygiene standards, allergen information, packaging type, management controls and, finally, ice cream quality and display. 
Three finalists were visited by an independent and professional mystery shopping company.
ICA president Katy Alston said: "Congratulations to Dylan's Ice Cream for being one of our two runners-up – a fantastic achievement.
"This award gave parlours a chance to shout about their creativity, professionalism and customer service and for our sector to showcase the very best parlours in the country."
The Ice Cream Alliance Parlour of the Year 2023 was sponsored by Antonelli.co.uk, a major UK manufacturer of waffle, wafer and sugar cones and supplier of ice cream ingredients to the trade.