Help Turner's Pies celebrate its first year open for business in Petersfield – with a FREE succulent sausage roll! 
Enjoy your savoury snack – every bite delicious – with every purchase you make over £5 as the shop marks a hugely successful 12 months in the town's Rams Walk. 
Simply buy a copy of this week's Herald or Post, cut out the coupon on Page 25 and hand it in at the shop to claim your freebie!
Time certainly flies and as Turner Pies approach its first anniversary – they had their grand opening on August 6, 2022 – the shop wants to give something back to the community that has welcomed it with open arms.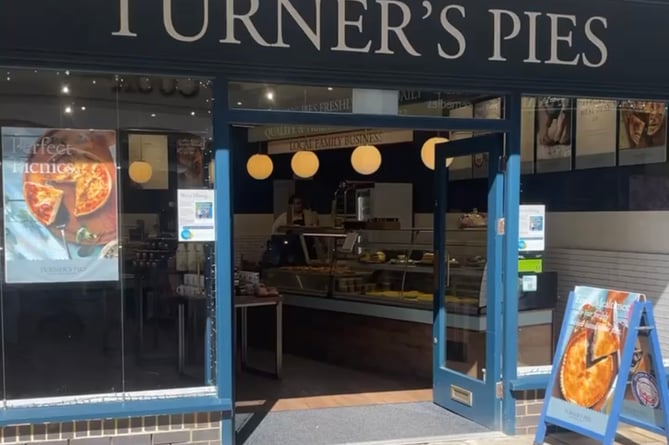 Turner's Pies in Rams Walk, Petersfield
(Turner's Pies)
The family-owned Turner's Pies said: "We're delighted locals have helped us succeed so incredibly and your patronage really does mean everything to us! 
"Thank you from the bottom of our hearts for your custom, snapping up award-winning hand-made pies along with meal deals, fresh rolls and pastries. Plus, so much more!
"We are thrilled our enthusiastic customers have been quick to praise us for our great service and that many have even gone so far as to write glowingly positive reviews about their experiences tucking in to our famous treats! 
"Remember, favourites such as steak and ale and chicken and ham pies, traditional pasties and wonderful quiches mean we have something for everyone – no-nonsense, good old-fashioned favourites, done the right way for the whole family to enjoy. 
"Desserts, too, are winners with our loyal clientele, with mouth-watering goodies such as blackberry and apple pies, treacle tarts and luxury vanilla custard all hitting the culinary spot.
"So enjoy your flavoursome snack on us – it's a tasty offer not to be missed – and let's look forward to celebrating our second anniversary in the town in similar fashion in 2024!
"Turner's Pies and Petersfield was meant to be – definitely a recipe for success!"