To mark National Pet Month, residents at RMBI Care Co Home Shannon Court in Hindhead enjoyed a friendly visit from Rex the giant schnauzer.
Being the deputy home manager's dog, Rex is a regular at Shannon Court. However, this visit was special as it was his first birthday party.
The residents were delighted to meet the affectionate animal, who was happy to be petted and stroked.
One of the residents, Edith McKinnon, said: "I thought the party was very well organised! Rex is wonderful, really one of a kind. It was fun watching him play with the new toys he got!"
Resident Edith was so excited that she even sent some photos of Rex to her brother, who lives in Berlin.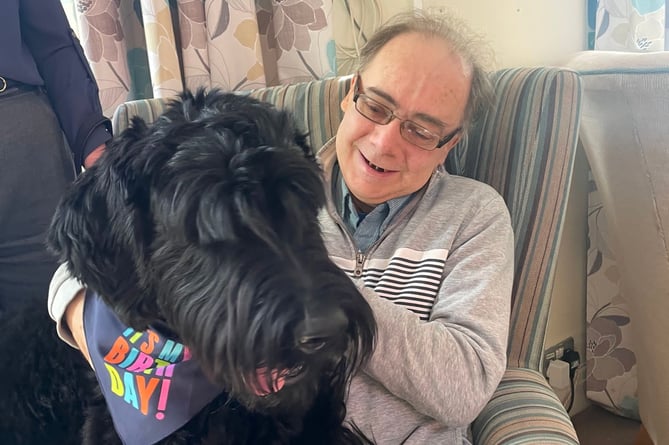 Resident Andrew Melville greets Rex, the four-legged birthday boy, at RMBI Care Co. Home Shannon Court, in Hindhead
(Shannon Court)
Kata Beauchemin, one of Shannon Court's activities coordinators, said: "Rex is much loved by a lot of our residents. He had a squeaky toy cake, an edible birthday card and some gifts! Meanwhile, the residents enjoyed some cakes to celebrate his first birthday."
Steve Stace, the home's business manager, said: "It was really lovely to see the residents' faces light up when Rex came around. He brought joy and calmness to our residents, which is wonderful for their mental health and wellbeing.
"Also, they were able to get very close and feel his breath and fur, and this was a particularly joyful experience for residents with visual problems."
The home's staff and residents said they are looking forward to Rex's next visit.  
RMBI Home Shannon Court is run by RMBI Care Co., part of the Masonic Charitable Foundation. For more information, visit: http://www.rmbi.org.uk/