All-action Harris loves life with Aldershot Town
Wednesday 19th January 2022 5:00 pm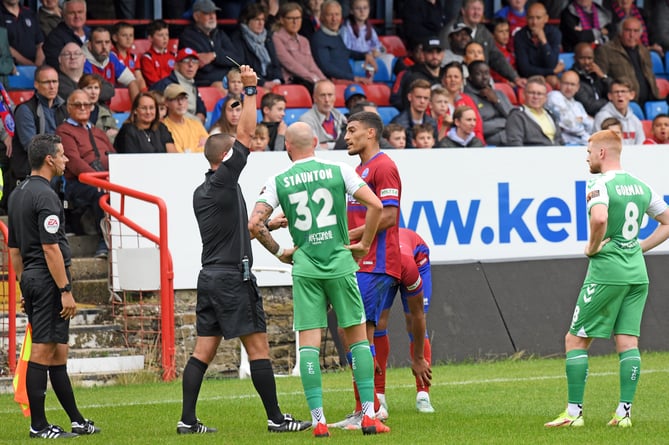 Action from Aldershot Town's 2-1 defeat against Yeovil Town earlier this season
(Photographer: Malcolm Wells )
Subscribe newsletter
Subscribe to our email and get updates right in your inbox.
SCORING your first professional goal is a milestone no player ever forgets.
In the case of Aldershot Town's Jayden Harris, his first goal came in one of the biggest games of the season against local rivals Woking, a thrilling game The Shots won 3-2.
The midfielder joined the club at the beginning of the season from Championship side Fulham, where he had spent more than a decade, progressing through the ranks – and says his time there built him as a person.
"Obviously their main priority was to coach us football, but some of the things they taught us in football you could take through into life," he said.
"Things like going 1-0 down can be related to life in the sense that when things don't go right, don't give up and just keep going.
"I didn't play first-team football at Fulham, so I just had to bring what I learnt in the academy, and from training as part of the first team, with me to Aldershot Town."
Harris was a prominent figure in Fulham's under-23 side and became the first player to make 100 appearances for them, with the majority of those coming in Premier League 2.
However, the 22 year-old never managed to break into the first team, and says there are definitely differences between academy and senior football.
"Giving the ball away is a lot more dangerous now," he said.
"You obviously didn't want to give it away when playing under-23s, but if you did it wouldn't be as bad as doing it in the National League.
"There are all types of talent in this league, so anywhere you give it away can lead to a goal. It's also a lot more physical, and there's a lot more on the line."
The midfielder was sent out on loan earlier this season and spent a month at National League South outfit Hampton & Richmond Borough, and says his short spell there was beneficial. "Leading up to going on loan, I hadn't really been playing," he said.
"I just had to get the match fitness back into my legs really, and I want to thank Hampton & Richmond for taking me on, because I had a good month there."
Harris scored his first professional goal against Woking in front of well over 1,000 travelling Shots supporters, and in a win that gave Aldershot Town the perfect start to the new year.
Not only that but the goal came at the stadium where he made his first-team debut, as he had a short spell at Woking during the 2019/20 campaign.
"It felt great and at the time I didn't really know Aldershot Town and Woking were rivals until nearer the Christmas period," he said.
"In the first game at home I was on the bench, and I saw the passion from the fans and how much it meant. Then I started in the second match, and I could really feel it.
"The fans were behind us and were literally the 12th man. Even when we went 1-0 down early on, they were still chanting and did so throughout the whole game."
Described as a box-to-box midfielder, Harris is a player who is extremely versatile and all over the pitch, whether it be getting back to help defend or pushing forward in attack. He says he thinks having this skill has given him more opportunities throughout his career. "I see myself as a player who can do it all," he said.
"First of all, I love tackling, so anything in front of me I'm going to tackle, and I also like to attack as well.
"I've got an attacking mindset, as well as the mindset to win all my battles. I think being an all-rounder is a very valuable thing to me, because I like to have the passion on both sides of the ball."
In a young player's career, spells at their first few clubs are crucial to set them up for the future. And in the case of Jayden Harris, he thinks his time at Aldershot Town is going to be just that.
"I think it's going to be a big moment in my career. This is my first real season being in and around first-team football every day. I just want to take it game by game, play well and win.
"Right now, we've beaten this first hurdle which was getting out of the relegation zone. We've slowly been distancing ourselves from it and now we just want to push up the table and climb the places each week."
Comments
To leave a comment you need to create an account. |
All comments 0