New Farnham Town boss confident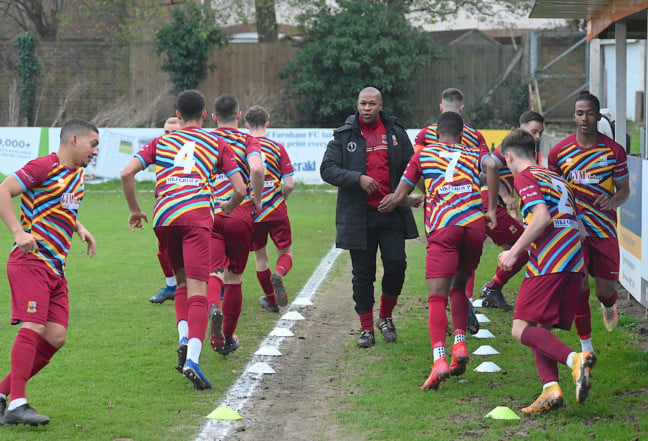 Tony Reid with his players. Picture by Andy Fitzsimons/@fieldmatters
()
Subscribe newsletter
Subscribe to our email and get updates right in your inbox.
HIGHLY-REGARDED manager Tony Reid has taken over at Farnham Town and insisted: I'll win the club promotion.
Reid enjoyed huge success at Westfield, taking them from the Combined Counties League and into the Isthmian League, where they reached the promotion play-offs.
He left in 2020 and had a short spell at East Grinstead - and admits he wasn't enjoying the football there.
He believes Farnham have ambitions that match his own - and is determined to bring success to The Memorial Ground.
He said: "I want to get into Step 3 and Step 2. Farnham have shown me their vision and plans - and I've always wanted to have s club who wanted to back me and meet my aspirations.
"If you have a manager and a club who both want to go in the same direction, all you need to do is bring them together and have that marriage and harmony - if that marriage works, there's no reason we can't achieve the same goal.
"I want to grow with a club. The difference between here and Westfield is Westfield had a great chairman; here, we have a boardroom right behind the chairman, which is really needed at any club - you have to have a decent-sized committee, people who are contributing and helping out who have their own individual roles, and Farnham will succeed.
"They think I'm the right man for the job and I know what I'm capable of doing - and if they want to get to Step 3, I'll get them to Step 3."
Some non-league observers have been surprised that Reid has taken on a job in Step 5.
But he says: "Step 5 is where it all started for me. I've been managing at Step 4 for a few years but I know this level.
"I think I needed to find myself again - I needed to be happy. At my last job I think I was doing it because I felt I had to, rather than doing it for myself.
"It became a chore and I wasn't enjoying it - and I don't like not enjoying something, especially football because it's my passion.
"Farnham put out a feeler and I did wonder whether I wanted to do it again, because my aspirations are high - but listening to the board, they have a vision which is the same as mine.
"Their vision is achievable and it's big - and I like a club who have a five-year plan.
"When they put the feelers out on me, I felt really chuffed and wanted - they showed that to get me, and have continued to show it now I'm there.
"The first game didn't have the result I wanted, but the fans were brilliant, really brilliant, and made me feel so welcome - it was like being back at Westfield.
"I appreciate the job comes with pressure - I know the club are ambitious. But that's me - I like pressure.
"I know some people have been surprised I'm at Farnham, and some in the league are saying 'crikey, Tony Reid's back'.
"But I'm driven, I'm ambitious, I'm a winner and my first task is to build a team that is going to challenge.
"I'll get the club up and running straight away - that's what I do."
Comments
To leave a comment you need to create an account. |
All comments 0